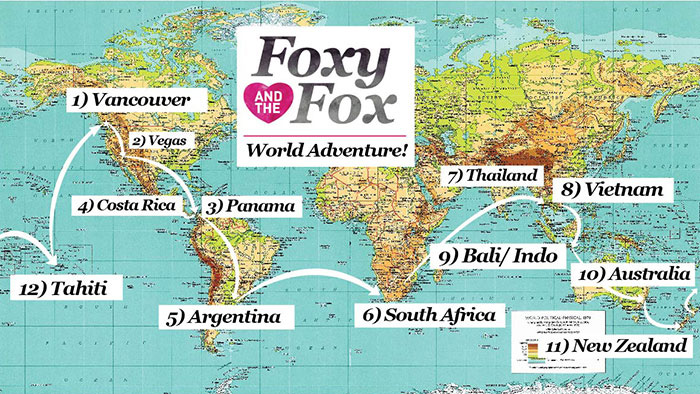 It started with call from our good friend Justin who was at a charity auction. "Noel, there are two around the world business class tickets that in 5 minutes are going to be sold really cheep. Josi and I, we were only dating at the time, were having dinner at a restaurant and I ask her if she wanted to fly around the world with me. Now we are married and I'm just about to start packing for a six and a half month around the world adventure that takes us from Vancouver to Las Vegas (only for 14 hours), Panama, Costa Rica, Argentina, Thailand, Vietnam, Bali/Indonesia, Australia, New Zealand and then finishing off in Tahiti.
While it's not the longest trip I have ever embarked on, it's by far my biggest adventure to date. WIth all of the planing that a trip like this takes, it almost doesn't even seem real. Not that we have planed our trip all that much, we don't even have a place to stay when we get to Panama, but with technology the way it is in this day and age last minute is often the way to go. Not that I wouldn't rather have it all figured out a little, it's just that with all of the prep getting FreeBird Agency to a point where we can take off, it's been way too busy to think about anything.
As mentioned, we leave tomorrow and I have yet to pack. Josi is pretty much fully packed and here I am writing our first blog post so Alex can finish our travel blog. At least I have a packing list so I should be fine. The goal is to travel light as possible which is proving to be challenging considering we are surfing, fly fishing, working virtually with FreeBird Agency, taking photos and hiking mountains. We will experience everything from freezing ice bergs to tropical jungles to desert beaches to who knows what. I guess what ever we don't remember to pack, for everything else there's a Master Card. Dam, I've been brainwashed by the industry that I'm so deeply rooted in.
It's time to get packing and at this late hour my list is my boss.
It's big, it's long and I'm wondering if it's just way too much stuff. I'm committed to packing my big Burton Wheely bag only half full so I can bring back some worldy treasures.
The List:
Burton Wheely Bag
Fishing rod and reel
Fishing supplies
Sun glasses (x2)
Surfboards (x2)
Bank Card (personal and business)
Credit Cards (x2)
Passports
Toiletries

Shaver and blades
Sun screen
Zink
Lip Balm (x mega)
Deodorant
After Shave
Floss
Vitamines & pills

Surf Board
Surf fins
Wax
Rash Guard
Reef Booties
Shorty
Board shorts
Reg shorts
T's and Tanks
Running shoes
Flip Flops
Ball Cap
Towel
Rain jacket
Rain pants
Camera
Charger
Memory cards
Lenses
Computer
Charger
Portable Hard Drive
Import music and audio books
Iphone & Charger & Headphones
Books (x ?)
Bring business bank FOB on trip
Small back pack
Dam, it looks like a crazy long list!