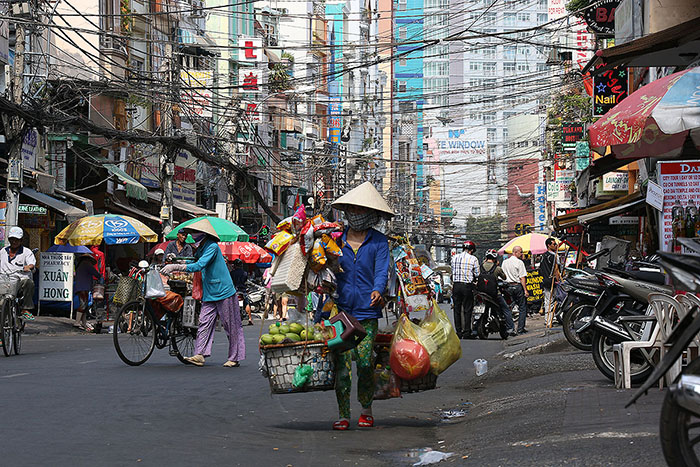 When people think of Canadians they think of Royal Canadian Mounted Police, polar bears, eskimos and igloos. Yes, we have them in Canada, but one doesn't see them on a daily basis, in fact I have never seen an actual fur clad eskimo running past his igloo while being chased by a polar bear. When I was researching images of Vietnam the photos that show up first are those of people wearing funny cone shaped hats while working happily in rice fields and people riding bicycles through busy streets while packed to the tits with an unbelievable amount of heavy cargo. I figured that while in Vietnam we might see some of these touristy things, but the reality is that you can't blink an eye without seeing such sights in every direction.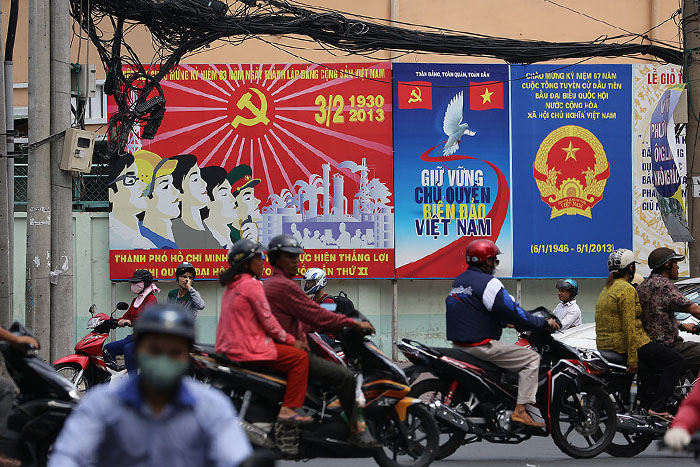 Everyone in Vietnam looks like they just came out of a 50's postcard. Women going about their daily work while wearing oversized, cone shaped bamboo hats that are firmly strapped around their chins. The streets are absolutely packed with people riding motorbikes and bicycles whipping along in every which direction. The biggest surprise to me is how most of the deliveries, including water, beer, trees, you name it, are all done on motorbikes and bicycles. This alone is a mystery to me, let along the fact that they are delivering this heavy cargo through the traffic madness that's everywhere.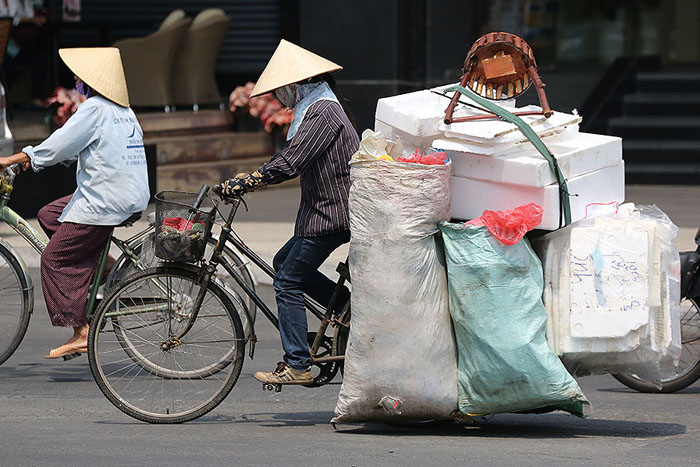 Regardless of the blistering heat, the women all cover them self from head to toe so not to expose themselves to the sun rays. Hats, jumpers, long gloves and full face masks cover their skin. Here I am walking around in shorts and a tank top begging for the sun to shine brighter while thinking that they all look a bit crazy, but I'm sure that I look just as crazy to them, perhaps even more so.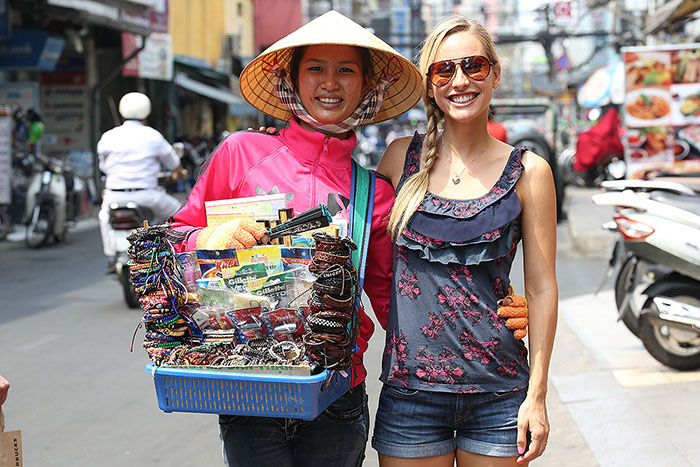 Almost everyone here is self employed, each with their own micro business. Some people carry portable restaurants and set up shop on the first patch of sidewalk they that's void of parked motorbikes. Their kitchens are carried over their shoulders, distributing their cargo across their shoulders using a long stick. They specialize in selling hot soups, grilled meats, noodles, fruit, etc. Their food is cooked over an open flame and they do their dishes next to them on the sidewalk. Nothing seems overly hygienic, but the locals seem to enjoy it. Other micro businesses/ walking sales people include selling illegally reproduced travel books, sunglasses, bracelets, cosmetics, shirts, sarongs, smokes, lighters, you name it, they sell it.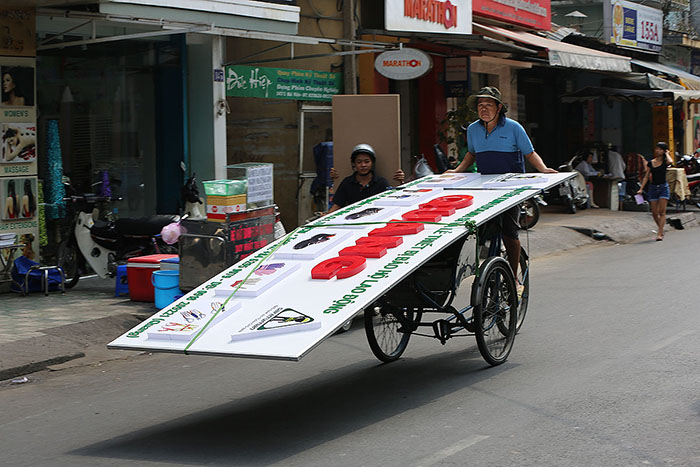 I found out the hard way that it's not smart to purchase the $2.50 RayBan's from the walking sunglasses guy. Once you do buy a pair, every sunglasses sales guy you pass on the streets, and there are lots of them, will ask you how much you paid for them. Then he will offer to sell you more of the exact same thing for about the same price. Secondly they look pretty good for the first 2 days, but after that the painted surface starts to boil and bubble and it looks like crap. Then they break in half.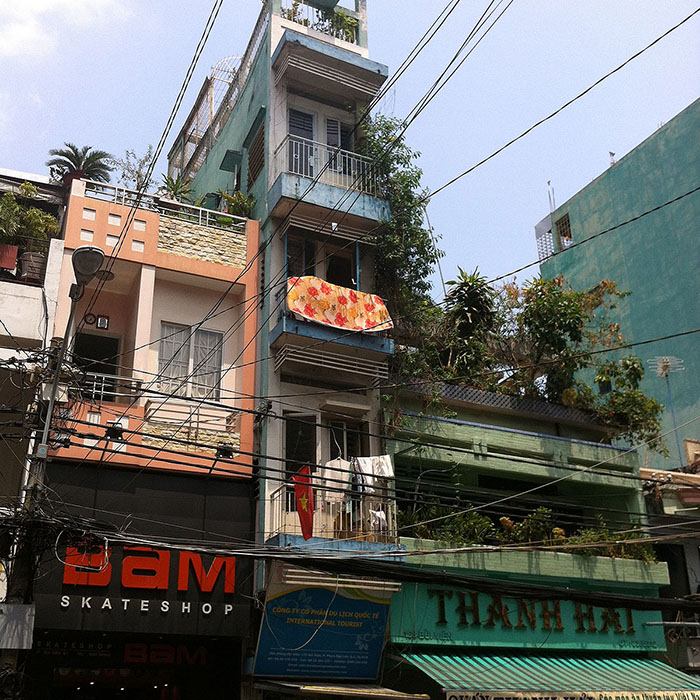 Land taxes here are based not on the square footage of your home, but on the width of the front of your home. As such, all of the building here are disproportionately narrow and overly long in length. As you can see in the photo above, some of them are so thin you would have a hard time fitting a sofa width ways. Every corner of building free land, both in the cities and the country, has been transformed into a rice field and there are people wearing cone shaped hats working knee deep in the mud. I have a whole new respect for rice and the amount of hard work it takes to grow it.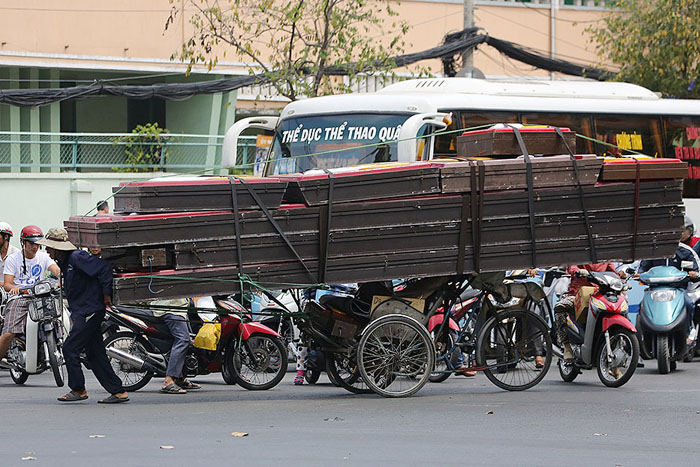 We had to go to Saigon (also know as Ho Chi Min City) to get our visas for indonesia. had we been staying in Indo for less than 30 days we could have gotten Visa on arrival, but we are staying longer so we need to go to the Indonesian Consulate. We could have gotten it in Canada, but it's only good for three months and we left Canada over three months ago. Initially we were thinking that we would fly to Saigon, apply for our visas, leave to check out somewhere else, and then come back to pick up our visas and fly out to Bali. Turned out that we found a pretty cool hotel in a decent area with a great roof top restaurant so rather than bouncing around we decided to chill and stay in Saigon until our visas were ready. Some people love to see everything when they are traveling and we have come to realize that we prefer to find somewhere cool and to just chill.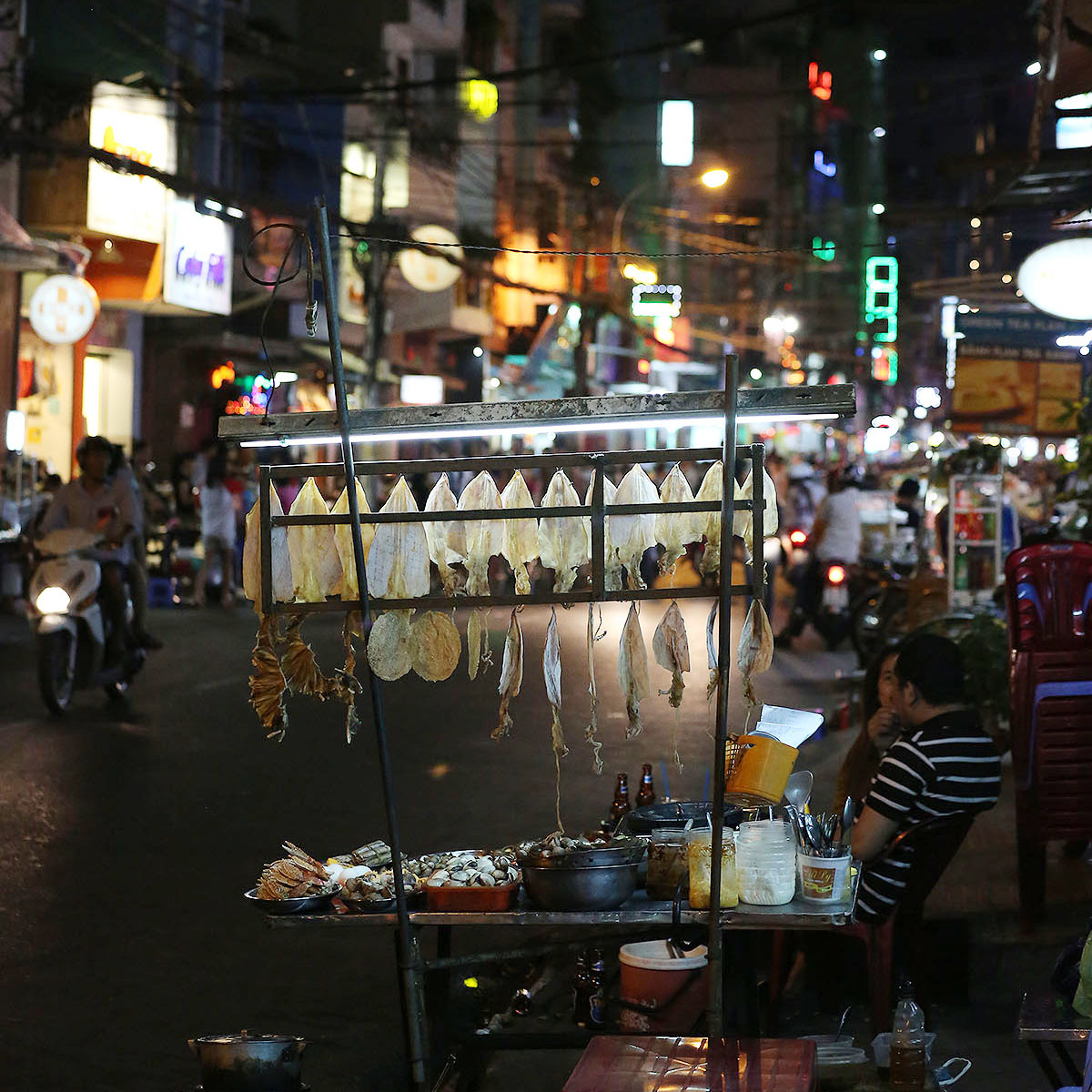 The streets of Saigon are littered with crappy knock off products, especially North Face jackets and bags. While it was tempting to scoop up a backpack for a great deal we decided that the last thing we needed was to be way out in the mountains on a camping trip and have the thing fall apart. I did buy a tank top, a pair of shorts and a few other things for next to nothing, but that's about it.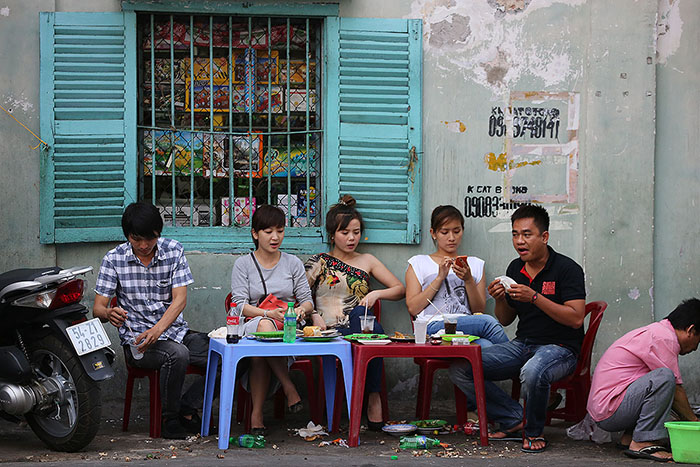 The restaurants in Saigon are all really great (no we did not eat at the restaurant in the photo above). Josi and I can easily buy a great meal, complete with appetizers and mains for less than $10. I have gotten hooked on the Vietnamese coffees which are a mix of strong coffee and condensed milk.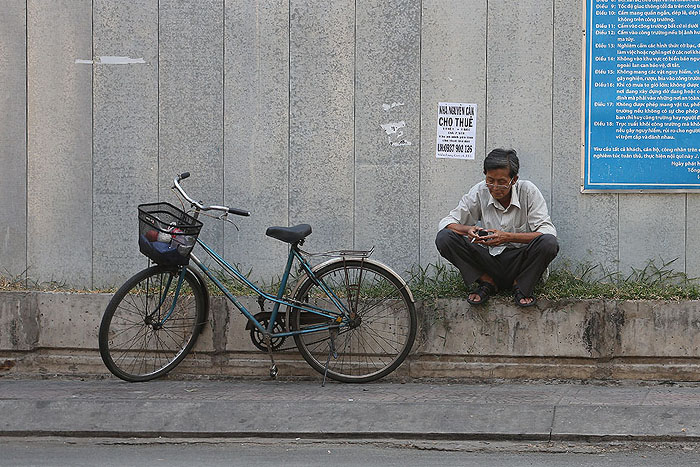 Things that I love about Vietnam are that the people are really nice, the food is great and restaurants cost next to nothing. The hotels all have amazing service and are dirt cheep, there are lots of interesting sights to see, and it's nice to be considered tall for a change. Things that have been less than awesome are that our timing is such that it's not as sunny and warm as we were hoping, most of the cool things to see are really far apart which means traveling on crazy busy roads, and the traffic in the cities is over the top nuts. All up I liked Vietnam and at the same time I'm not rushing to come back. Perhaps if there was epic surf I would love it a little more.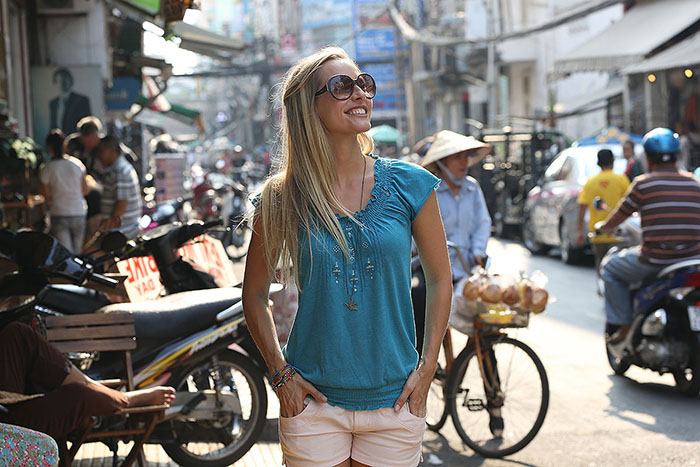 My mom and her friend were in Borneo and we just got news that they have decided to leave to Bali a week early. As such we have decided to change our flights as well so that we can hang out a little bit longer in beautiful Bali. We have a 3 hour lay over in SIngapore which is perfect because we are flying business class (if you are just following us now we got around the world business class tickets at a charity auction) and their lounge is meant to be one of the best.
We are looking forward to spending an extended time in Bali and it's surrounding islands as it's been a while since we have had much in the way of sun, surf and relaxation.