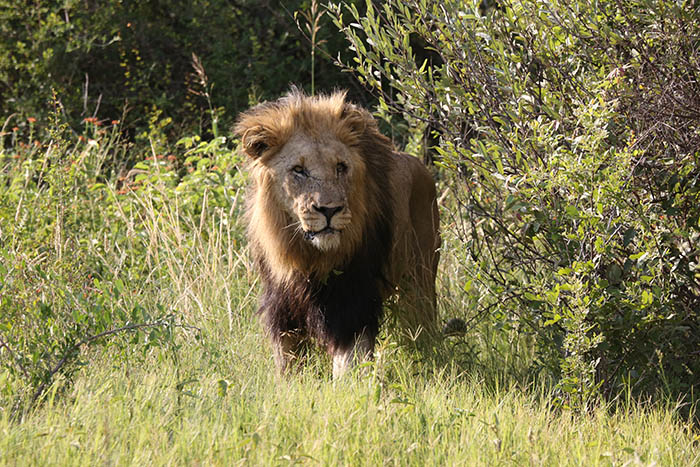 We had planned on going on Safari to Kruger National Park, but with the recent floods they just had, we were worried that much of the game reserve would still be closed. After calling one lodge in Kruger Park, we found out that it wasn't the case, but the lady told us that the wet weather brought a lot more mosquitos than usual and the mosquitos in this area can transmit Malaria. Since I want to avoid taking Malaria medication we kept researching possible safari locations and luckily found the Madikwe Game reserve. They have a few mosquitos, but the park in that area is Malaria free.
Madikwe is the fourth largest game reserve in South Africa. It's massive totalling over 75,000 hectares and is home to the Big Five, which means that it has Lions, Elephants, Buffalo, Leopards and Rhinos. There are lots of camps that you can stay in at the park ranging from upscale to more rustic and somewhat affordable. We chose Mosethla Bush Camp & Eco Lodge because it had great reviews on Trip Advisor and it was really affordable in comparison to the rest of the lodges. Other pluses include it being located right in the middle of the park, it's a family run business, and they have been in business since the park opened. Their many years of experience living with all of these wild animals sure made for some incredible stories at dinner time.
For me the beauty of this Bush Camp is that it's raw, no electricity or running water, and at the same time very charming and upscale in it's service and overall experience. For about $350 a night Noel and I got a really cute little open air cabin, 3 great meals and two 3 hour game drives each day (one in the morning and one in the evening). Oh and I forgot to mention that except for a really high electric fence to keep out the elephants, the whole camp is totally open allowing all of the wild animals to roam freely through the camp! For peace of mind they fenced the toilet and shower area, which made me feel way safer when I heard a lion roar when I was in the shower one evening. Most nights you could hear animals wandering around outside your cabin and I often wondered why the front of the cabin was open with only a 3 foot cloth door to keep the lions out.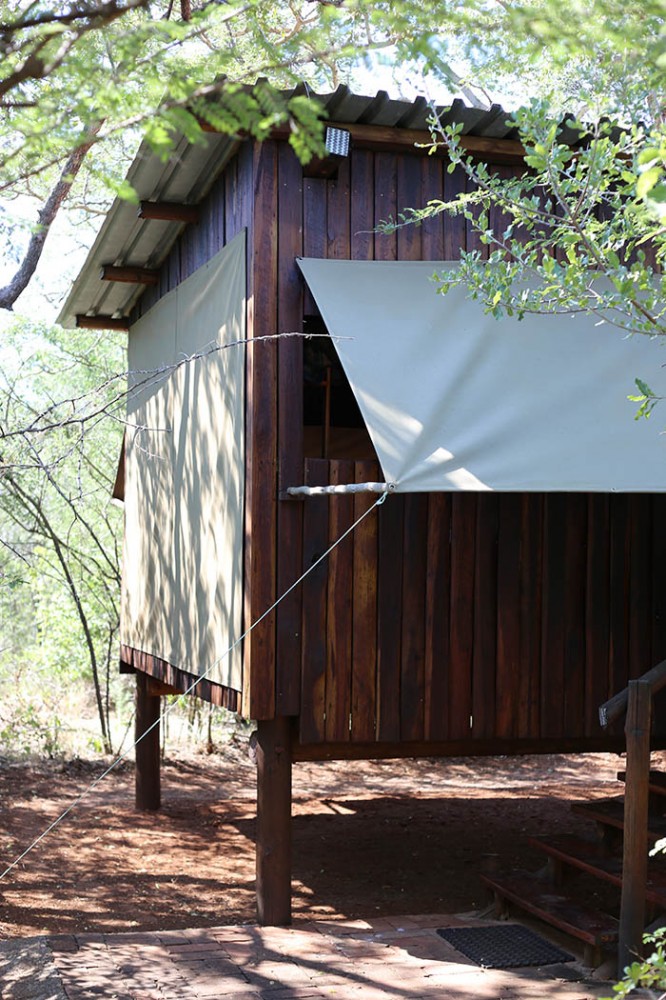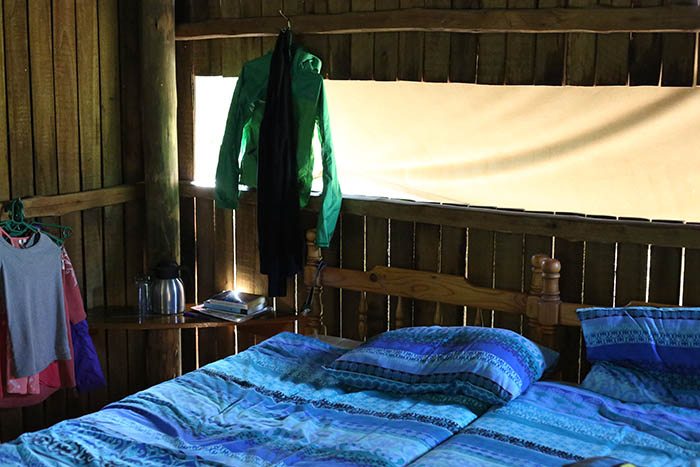 On our first day, Noel and I arrived at the Bush camp just in time for a great lunch and were lucky enough to be able to go on the evening drive that same day. There were only six of us, including Noel and I, who all arrived at the camp that same day. We were all so excited to go on our first drive and our excitement and great energy must have brought us some luck because we saw so many animals that day. The amount of different amazing animals that we were able to get up close to was way above all of our highest expectations. Justice was our Ranger and Guide and he was incredible. He knew the names of all the animals, including the multitude of birds, and he had answers for all of our many questions that we threw at him.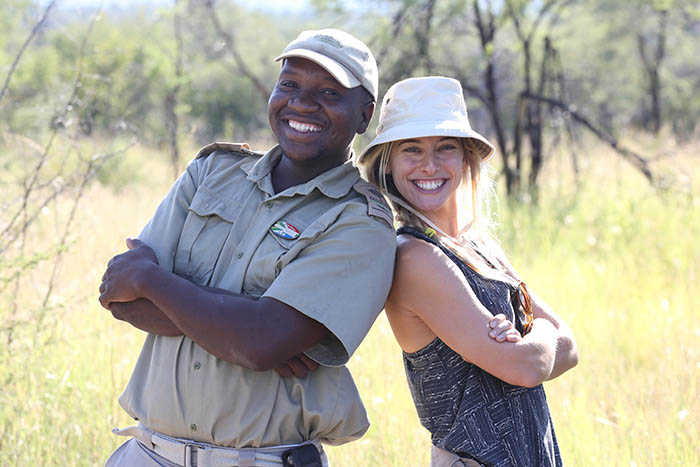 On our first drive alone, we saw elephants, giraffes, impalas, wildebeests, kudus, cheetahs and as a real treat, right before getting back to the lodge, we even saw a leopard drinking out of a nearby water hole. After our drive we then had dinner, chatted a bunch with our new friends from the camp and went to bed. Noel fell asleep within a few minutes and I was so wired and attentive to all of the wild and new sounds going on outside that I could barely sleep all night. As I laid on my bed my head was full of images of the wild animals that we had seen that afternoon. Our open aired cabin with no real door, in combination with the leopard that we had seen only a few hours ago, which we spotted only about 800 meters from our camp, made my imagination work overtime. Poor Noel, I kept waking him up to tell him that there were animals outside. I guess I should have expected that considering that we are smack in the middle of a game reserve full of wild animals. I'm not sure what I expected, but I think that I was expecting a fence to keep them out and then a front door just in case they managed to get through the fence?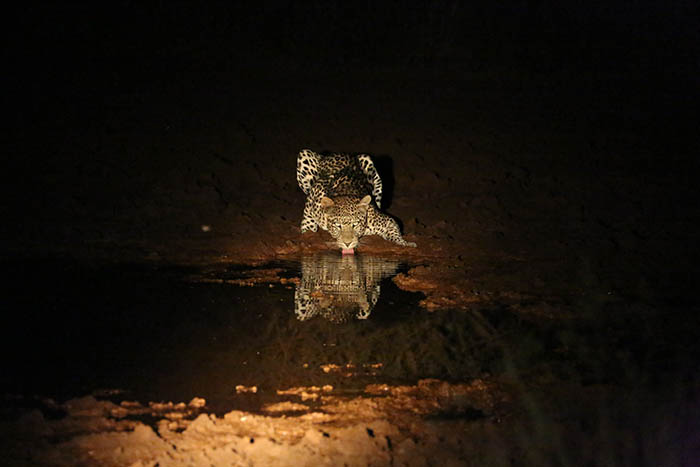 Wake up call comes early in Madikwe and every morning we got up at 5:30am. We basically had time to throw on our safari gear, grab a quick coffee and a rusk and jump into the 4×4 for the first game drive of the day.
The drive is about 3 hours long with a quick coffee/ snack break in the middle.You then come back to the lodge for a proper breakfast and then you get to do your own thing until lunch, which is around 2:30pm. It would have been great to be able to go for a run in between the first drive and lunch, but since we are not the fastest runners of the jungle, we we were on strict orders to not leave the small area of the camp. To keep ourself busy Noel took some photos of all birds and things and I did a bit of yoga, read and caught up on my sleep. The evening drive starts at 4:30pm and brings you back to the camp an hour after dark at around 8:30pm, just in time for dinner. Coming back to the camp at night was one of my favourite things because the staff lights up the entire area using oil lanterns. They are scattered all over the camp, in the rooms and around the dinner table making for a most romantic and exotic setting.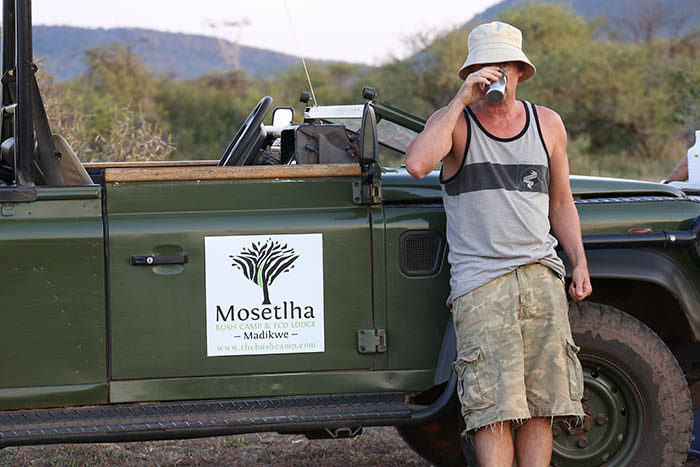 I have to say that I had some reservations when I read about the shared bathrooms and the fact that you have to heat and carry your own water if you want to take a shower, but after having experienced it first hand, I can say that it was part of what made the camp so great. Let me explain how the shower works. There is no running water so you fill a bucket from a portable water tank. Then you empty about half of your bucket into a something called a Donkey Boiler which instantly transforms it into boiling hot water that pours into another bucket. You then mix the hot water with your left over cool water so that it's your desired temperature. The donkey boiler looks like a homemade wood stove elevated from the ground allowing you to make a little fire underneath. The water must travel through a lot of mini conduits to make it so hot in the matter of seconds. It actually looks like something my dad could easily weld in his garage. Perhaps one day when we have our off the grid house I will have him make us one. I loved the rustic feel of the camp and even the whole experience of taking a shower. It was neat to see how much water you are using and the fact that you are carrying your own water to the shower makes you a lot more conscious of your consumption.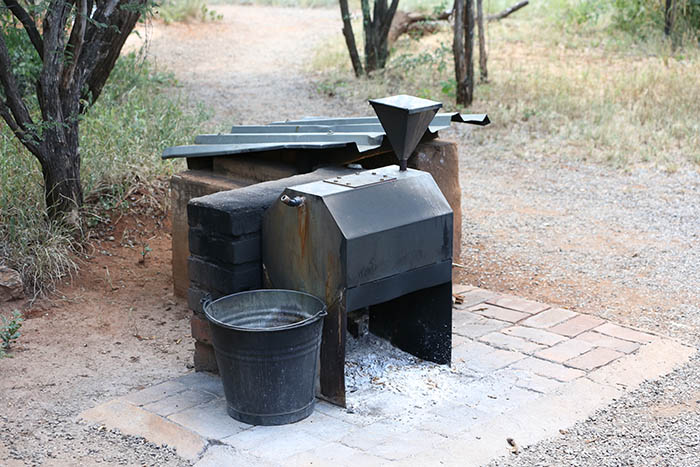 The whole experience was incredible and the best part in my opinion was to see the wild dogs of Africa. They are one of the most endangered species in Africa and are just a fascinating creature to watch. One day we saw 2 seperate packs, one of about 8 skinny dogs running around on the hunt for something to eat, and second was a pack of 22 dogs, adults and puppies. This pack was hanging out by a drinking hole with their bellies so fat from a recent kill that they could barely move. Only a few of the younger ones were wrestling and playing around. I could have watched them for hours.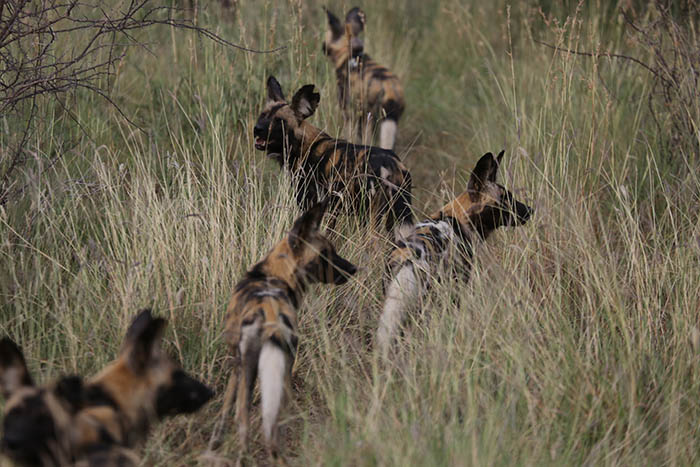 After a couple of days, more people joined us and the camp was at capacity with 18 guests. It's so great to see people's expression when you are only a couple of meters from a pride of huge lions. Through these experiences we met some amazing people, and for me it was a great bonding experience.
This was truly the experience of a lifetime and I can't wait to return.