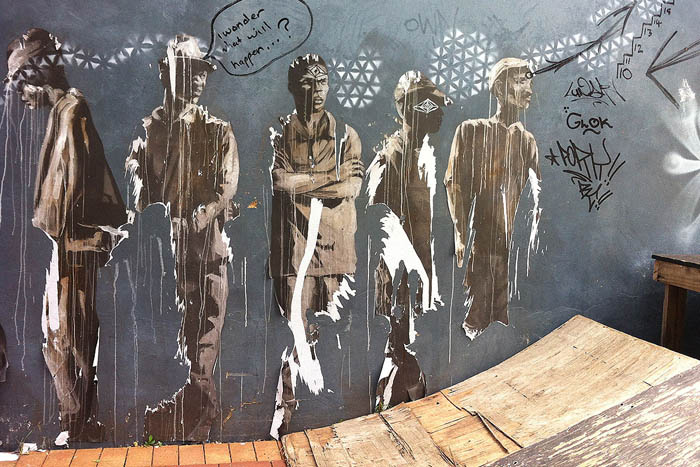 As much as going to South Africa was a dream of mine, a life long fear has always been going to Johannesburg. As a small child I remember watching a television report about how bad the crime was in Johannesburg. The story was about how some people were installing flame throwers into the sides of their cars so that if someone tried to carjack them they could Kentucky Fried chicken the crap out of the person. To make things worse, Josi was just researching online news about Johannesburg and was horrified by reports of people breaking into houses and leaving everyone fully mutilated. Crazy voodoo tribal shit that no one wants in the back of their mind when visiting a new city.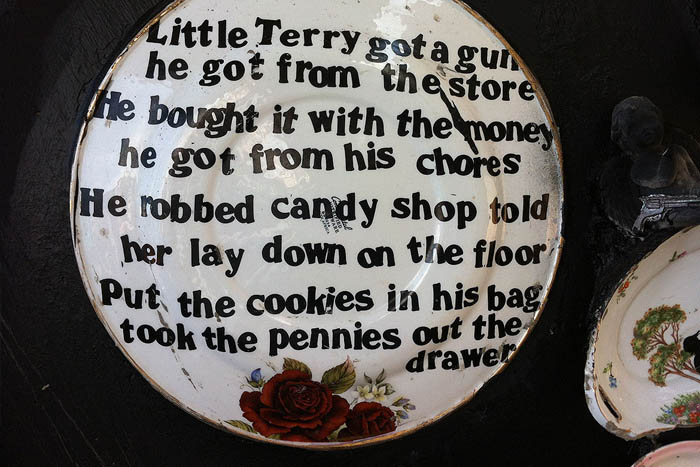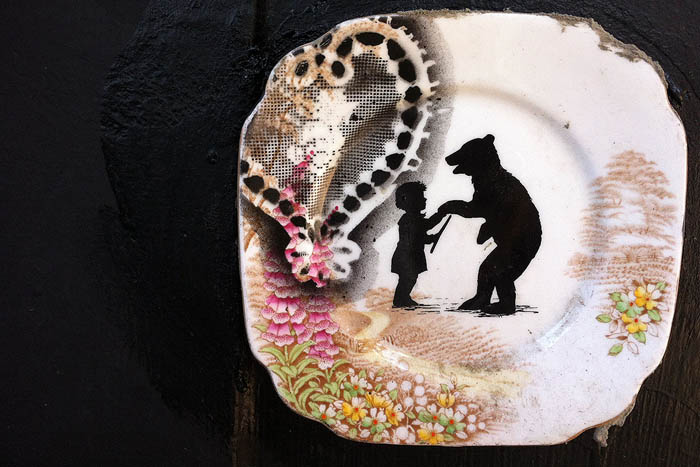 The only reason that we had chosen to fly out of Johannesburg was that we wanted to see our good friend Rob Bronzin who is the founder of Nando's Chicken. Nando's is a South African company and Rob lives in Johannesburg. I met Rob a few years ago in Vancouver and since then have done some marketing work for Nando's. Rob is now spending most of his time working on a project focusing on ending malaria in Africa. He and I have been in talks about working on some really cool save the world projects together which I'm quite excited about.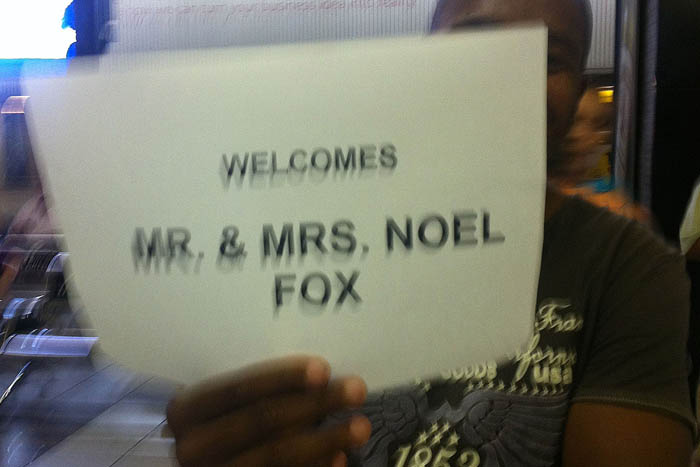 We arranged for a driver to pick us up at the airport for a few extra bucks because not only did we have our surfboards, we also wanted to start this leg of our adventure on the quick and easy. As we walked out of the airport there was a man holding up a sign saying "Mr. and Mrs. Noel Fox". I'm sure that a couple of surfers wearing shorts and tank tops weren't exactly what the driver was expecting. I was so stoked I had to take a picture because this was a first. It was also one of the things that I had way way down on my bucket list.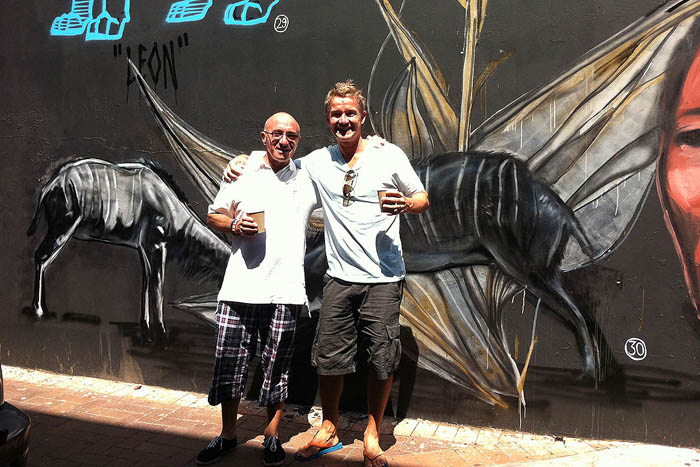 Rob had arranged for us to stay at Selwyn's B&B, his Assistant's, called 59 on Central which is in a great upscale neighbourhood around the corner from his own house. When we pulled up to the front gates we buzzed and buzzed, but no one was there. We could see through the big metal gates with electric fence all long the top, that the front door was open and there were cars inside so we figured that someone had to be home. After honking and waiting around for a few more minutes our driver called the security company's number that was posted on the fence as he feared that something bad had happen. In no time two private swat trucks pulled up and out jumped several commandos dawning multiple guns. I'm not sure what their plan was for saving the day and thankfully they didn't have to because right then Selwyn showed up. He was having lunch at his friends place next store. Turned out that our plane had arrived early and he wasn't expecting us quite yet. Our Canadian hearts were racing and as we got out of the car and checked into our oversized room. Once we were inside our room we started to calm down knowing that we were safe inside of Selwyn's fortified mansion. Fear is a crazy thing and once you have it, it grows inside you like a virus. I often say that "The only thing I fear is fear itself".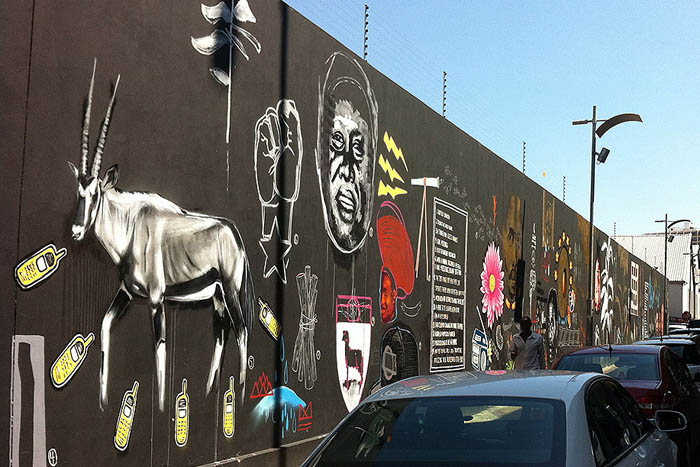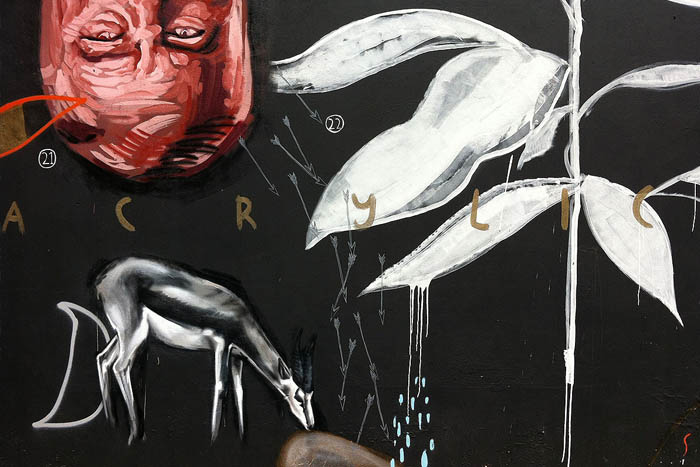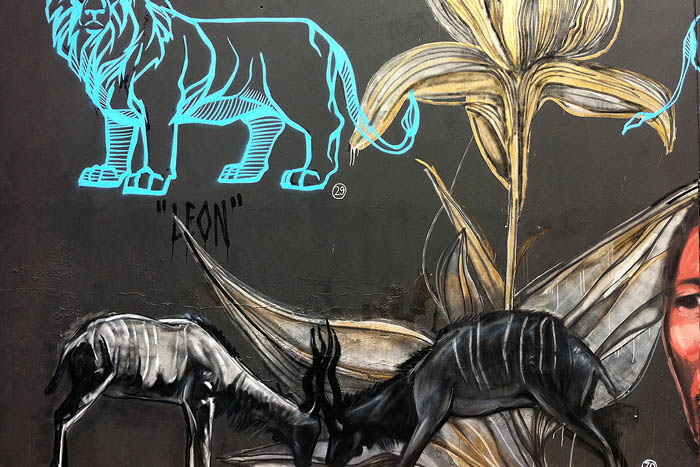 Later that night Selwyn took us out for a great dinner at an upscale steak house in a trendy neighbourhood close by. Then the next day he took us on a tour of the city showing us everything from the old and somewhat dangerous downtown to a trendy artist market in a cool up and coming part of town. We were surprised to find all kinds of cool street art, trendy artist produced wears and loads of laid back people enjoying life. It felt as though we could have been in a cool and undiscovered part of Portland, Vancouver, LA, or NYC. We finished the day by walking around an African market on the roof of Rosebank mall and ate an early dinner before going back to Selwyn's and packing for our Bush Camp and Safari in Madikwe. We left our surfboards behind as we are coming back through on our way to Thailand to have dinner with Rob and his family.
The one thing that Josi loved most about Johannesburg is that it's nick name is Jozi. At the art market that we went to they branded their packaging and shirts as "Love Jozi" and "Be Kind to Jozi and Jozi will be kind to you". Josi just loved it so much that had the T shirts not been $35 each I would have been wearing one now.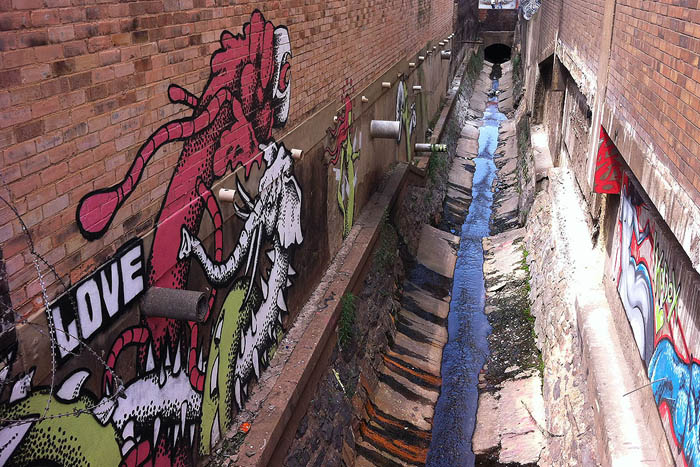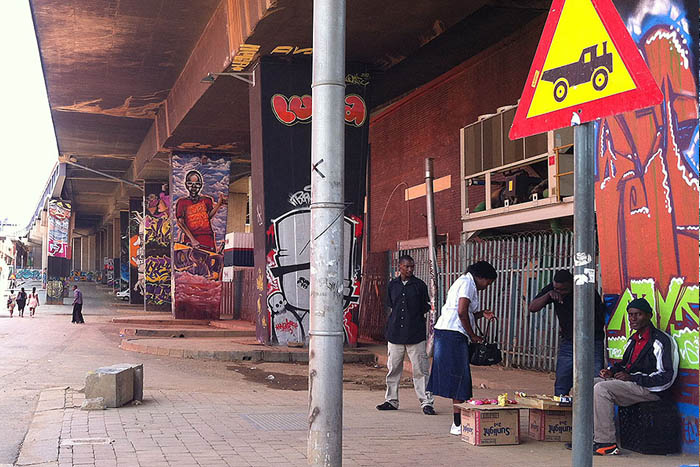 By the time everything was said and done our fear of Johannesburg had subsided to mild distrust with a few hints of like. Mostly we are super stoked to be getting out of the city and going on Safari early in the morning.