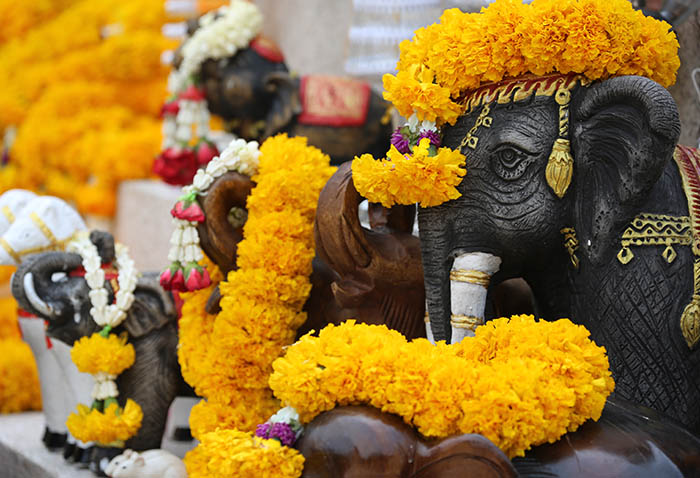 Leaving South Africa was a little more cheerful knowing that we were flying first class on Thai Airways. All the good things that I had heard about the airline were confirmed when we sat down in our oversized seats and the flight attendant offered us an expensive bottle of champagne as a wedding present.
Excited to be in a new location, we hurried out of our hotel room to check out Bangkok's weekend market, which claims to be the biggest street market in the world, on the other end of town. Jammed pack with people and stuff is how I would best describe this market. Rows and rows of little kiosks crammed next to another as far as the eye can see. You can pretty much find everything here from household items, decorations, art, clothes, shoes, jewellery, food and even massages. We were surprised to see that even though many of these merchants are selling the same stuff, there was still enough variety to keep us entertained. Be warned though, it's crowded, hot and sticky. Once I was finally able to forget about the smell of the dried fish, I built up enough appetite and courage to have a meal from one of the street vendors. I was a bit worried about the cleanliness of the dishes after I saw how rudimentary their dish washing system is. They set up on the ground, in front of everyone with two big buckets of water and scrub away. Regardless, we ordered some pad thai and shrimp fried rice and to my surprise it was pretty tasty.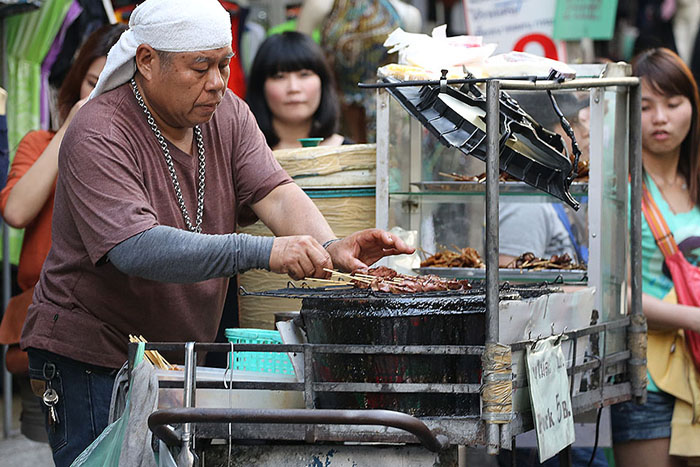 As a treat to ourself, we got a nice foot and neck massage from within the same market. Unfortunately right after the massage, I started having a killer migraine which degenerated quickly and next thing I knew I was laying down in the first aid room at one of their sky train stations. Still far from our hotel poor Noel had to drag me around as my eyes were half way closed. I was pretty excited when we caught a cab and unfortunately, the cab driver dropped us off at the wrong location. I guess the stress of this whole situation was just too much for my body to handle so I started throwing up in a plastic bag while still in the cab. I don't want to go into details here and let's just say that I've never puked so much in one session in my life! Noel quickly helped me out of the car and there I was sitting on the curb with my bag while Noel was running around looking for another cab to take us home. At the end, we made it safely back to our hotel where Noel tucked me into bed with an icy cold towel on my head until I fell asleep.
I felt a bit shaky the following days, so we decided to stay in Bangkok rather than travel north to Chiangmai or to the islands in the south. Seeing as Noel had already been to Thailand a few times and our goal of this trip was to see only the places that neither of us had been to we decided to explore Vietnam instead.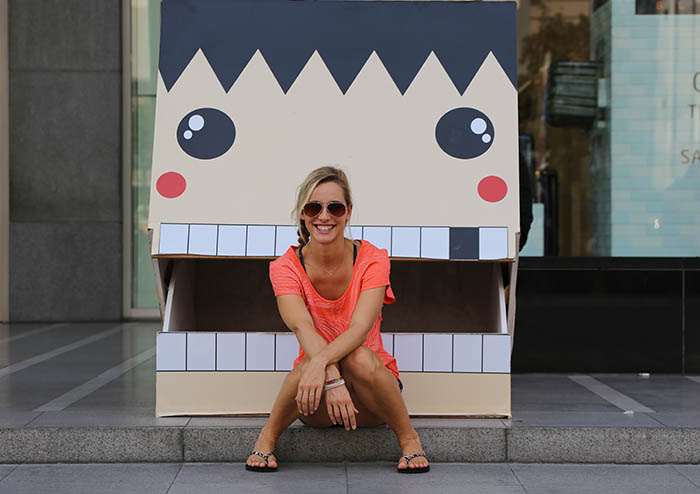 While in Bangkok we visited Wat Phra Kaew, the Temple of the Emerald Buddha which was absolutely stunning. Customs are that you must wear sleeves that cover your shoulders as well as long pants or a skirt to cover your legs. Luckily they lend pants, sarongs and blouses for free which gave me a good laugh when I saw Noel in oversized brown cotton pants and a lilac button shirt to cover his shorts and tank top. The craftsmanship that went into building the temple is incredible and totally worth the $15/person entry fee. During our few days in Bangkok, we also did a bit of shopping and discovered the many many malls and million of street vendors of the city.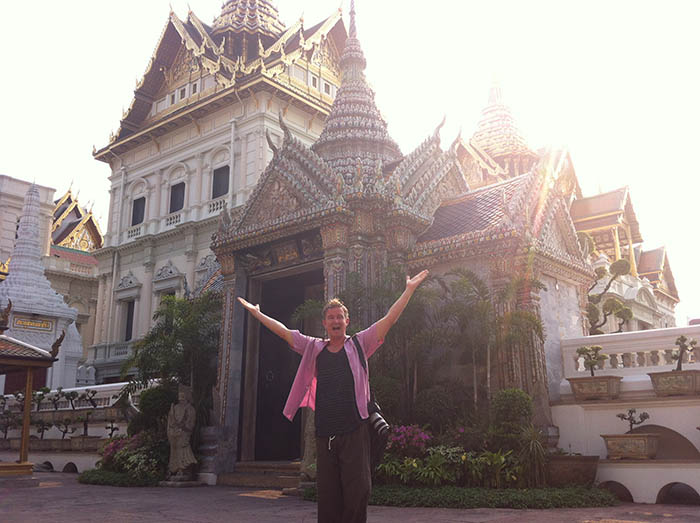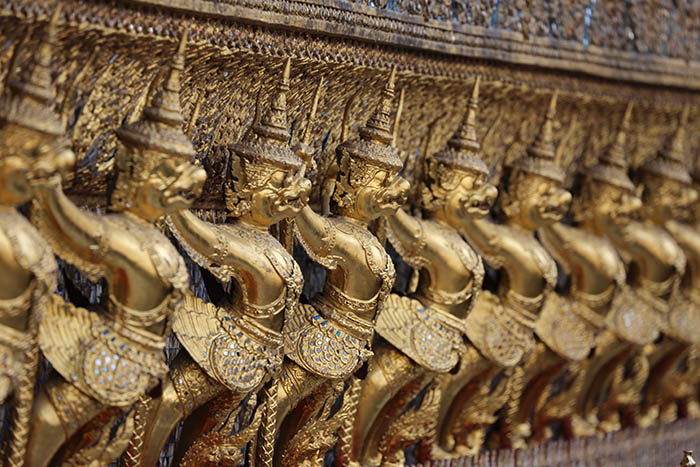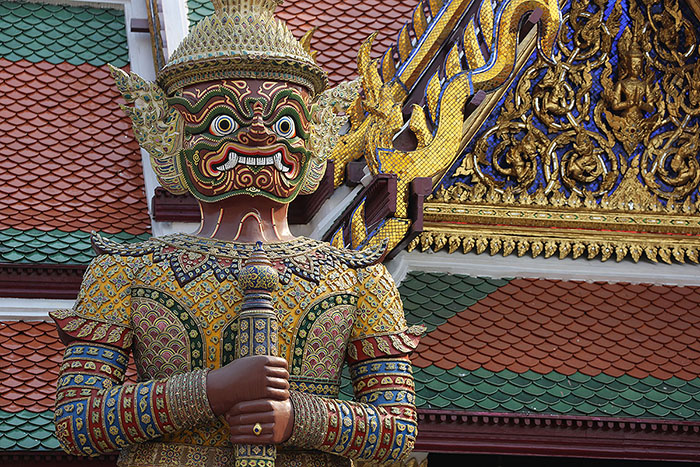 Similar to back home there seems to be a whole culture around going to the mall and shopping. I found it both depressing and fun at the same time.
Getting a thai massage while in Thailand was high on my list of things to do while in Bangkok and Noel and I found a place close to our hotel that offered to give both of us a massage in the same room. We had never received a Thai massage and we both cracked up when we saw each other getting twisted into pretzels. Noel almost burst in laughter when my masseuse put her two feet up against my back pushing me forward while she was pulling my arms back towards her. I thought I was going to break in half. Noel's lady was wearing a mask over her mouth similar to the ones they use when riding their motor bikes through town. I'm not exactly sure why she wore it, but Noel jokingly said that it was like getting a massage from Darth Vader. The whole experience was a bit less relaxing than I expected, at least it gave us a good laugh.
Despite the crowded, polluted and dirty face of the city, I am glad that we spent a few days exploring Bangkok.