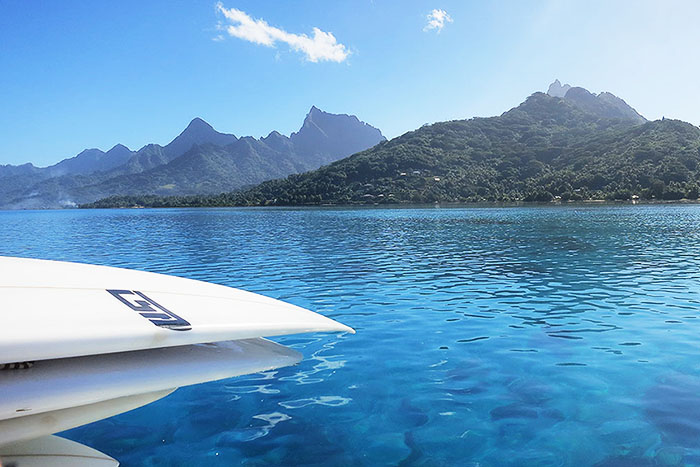 We have surfed, explored and honeymooned our way around the world over the last six and a half months and we are stoked to be ending our epic adventure in Tahiti. Through a combination of tips from friends and online research we chose to spend our time at a left handed point break called Haapiti on the island of Moorea.
When researching places to stay and things to do we started to get a little worried about completely blowing our budgets because Tahiti caters mostly to those with very large budgets. Going back and forth between Trip Advisor and Booking we discovered a little known gem of a place to stay called Moorea Bed and Breakfast which was well priced and close to the surf so we booked for our entire time in Tahiti.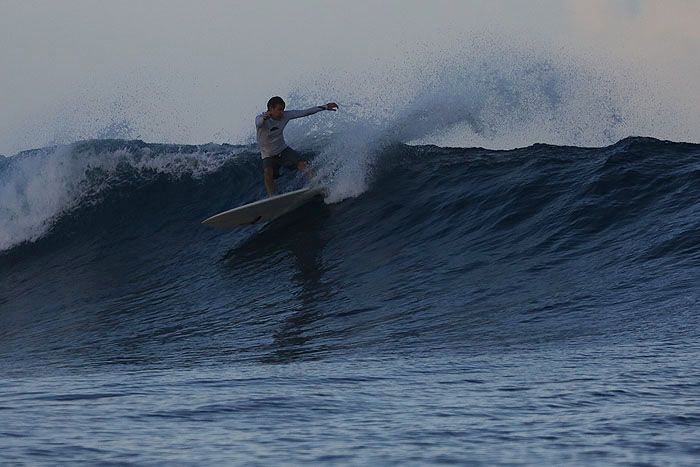 Our days usually started with getting up at 6am when it was just starting to get light and heading out for a surf. The wave at Haapiti is a long way out on the outer reef so Tama took us out on his boat for a cost of about $30/pp. They also had outrigger canoes and kayaks that were available to borrow for free, but the boat was a nice treat that we had worked into our budget. When watching the break from the shore it doesn't look that big, but as you get closer to the channel where it breaks you quickly see that it has some serious size.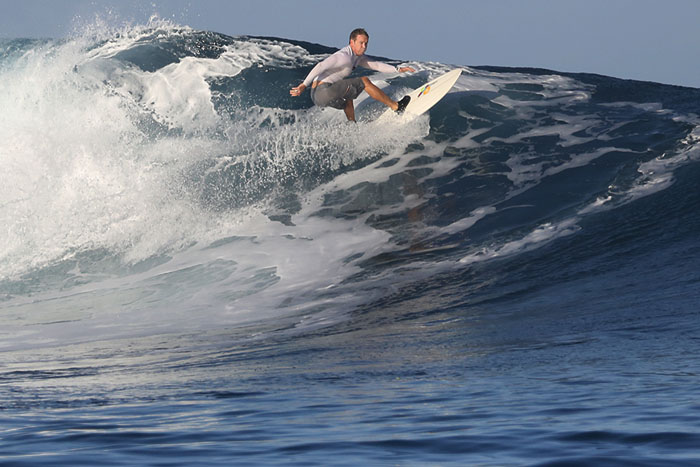 On our first day Josi had brought her board out on the boat hoping to be able to surf as well, but after watching for only a few minutes and seeing an occasional set rolling through at double overhead pitching hollow over the shallow reef we quickly realized that she was not going to be able to surf that day. Luckily for me she had also brought the camera and to my surprise she actually enjoyed taking photos. When it's working, Haapiti is one of the most fun waves I have ever surfed. Even though I got pitched over the falls on several occasions, the drop in is relatively easy and once you are in, the wave builds in size as it hits the shallow reef making it loads of fun. While it does barrel, it also breaks slow enough that you can race ahead of it with lots of time to make big cutbacks which I find rare for a reef break. There were a few days where it was big enough that guys were breaking boards and leashes, but it was never so big that I felt like I was out of my league. One of the things that really surprised me was how friendly the locals were. On one particularly good and busy Saturday all of the locals in the water smiled, and a few even came up and shook my hand which is something that I have never experienced anywhere else.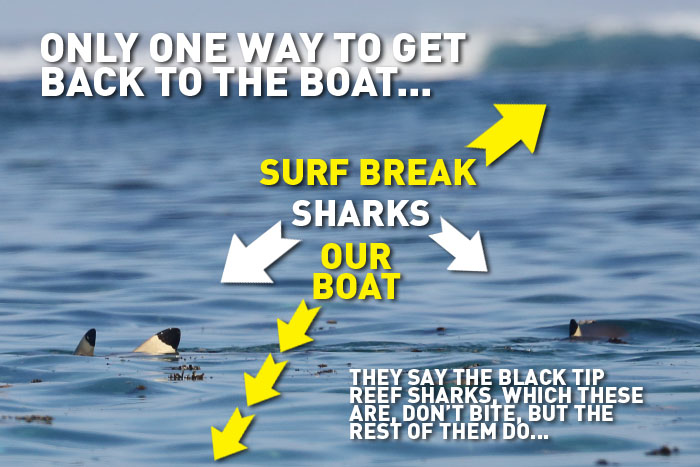 There was one day when Tama had to park his boat way on the inside of the lagoon because it was breaking too big to anchor in the channel. On my paddle back in I saw a lot of commotion in the water between me and the boat that was about 100 Meters away. I figured that it was black tip reef sharks which I was told don't bite so I paddled on. When I got to the boat Josi quickly showed me photos of a small school of sharks that had been feeding exactly where I paddled through. This wasn't the first time I have surfed with sharks and while sometimes I get really spooked, while surfing in Tahiti I felt pretty at peace with them being there.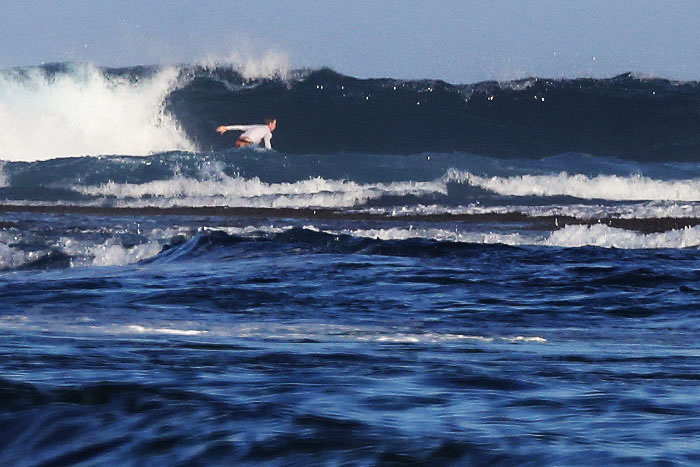 When the huge swell came we were fortunate to be able to go and check out Teahupoo which was insane. The downside of this big swell was that for 4 days all of the breaks on the island of Moorea were closed out and unsurfable. The upside is that there are so many cool things to do on top of surfing that Josi and I had no problem keeping ourself busy.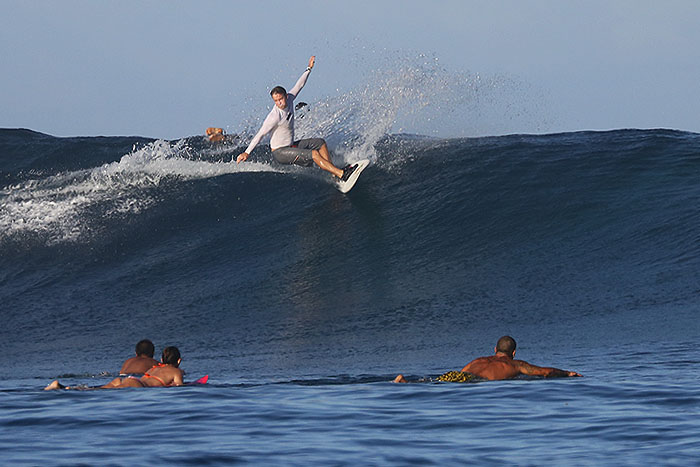 Surfing in Tahiti is like being in a surf magazine with perfect waves breaking over the reef into a bright turquoise lagoon with a backdrop of palm trees and volcanic mountains. The boat drops you off right at the perfect spot and you can paddle out to the surf without even having to duck dive. When it breaks the long pealing wave breaks around the reef at first growing in size before levelling off, dropping in size just a little before the inside section jacks up again. When your arms are totally paddled out you make your way back to the boat which is anchored just off of the edge of the wave to grab a drink of water and to return home just in time for breakfast. On the short drive home we often saw spinner dolphins, sea turtles and all kinds of fish swimming in the crystal clear water.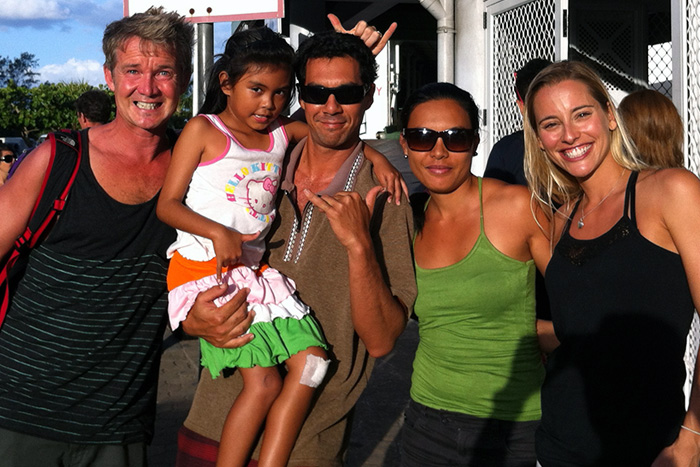 Tama's wife Marie greeted us home from the surf with a wonderful breakfast complete with fresh tropical fruits, home made yogurt and jam, pancakes, french breads and coffee. There is no better way to start your day on a beautiful tropical island then with a delicious breakfast. From there we would catch up on emails and then either ride one of the free cruiser bikes, or take a rental scooter, or paddle a kayak to one of the many beautiful beaches near by to go for a swim. Close by there was one beach where we often swam with huge sting rays and reef sharks that would come right up to you. We made the most of the full kitchen at Moorea Surf B&B by making our own dinners consisting of huge tuna steaks, delicious french cheese and salad. Not only was it way cheeper than eating out, but it was also way tastier.
I even managed to put my photography and design skills to use and helped Tama with their website in exchange for staying at their place which worked out perfectly. If you are ever going to Tahiti and are looking to stay at a reasonably priced place run by really nice locals who surf, then you have to check out Moorea Bed and Breakfast. I'm not sure when, but at some point in time Josi and I will be coming back for sure!