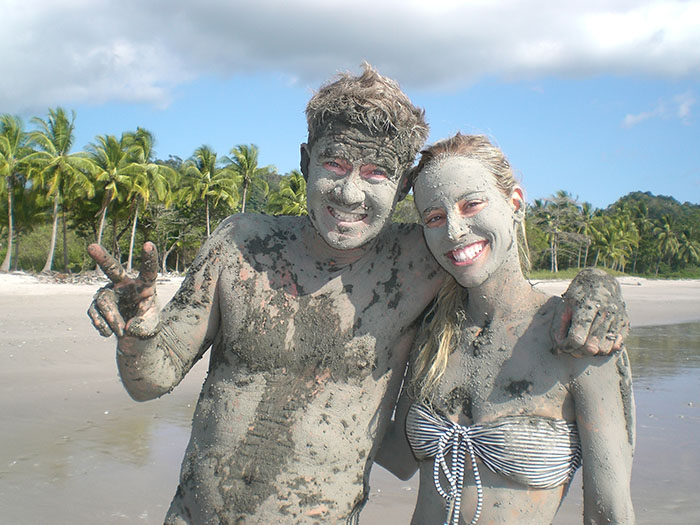 Finally my cold is gone and I can do stuff again. I found it less than easy to stay in bed while everyone was having fun. Since I've been feeling better, I am packing my days with activities and enjoying as much sunshine as possible.
Most of our mornings are dedicated to surfing. Noel had warned me that it would take a while for me to get used to my new 6.0 board as it is much shorter than my 7.0 that I am used to. The beauty is that I am now mostly able to duck dive and I can get past the break way easier and much faster. Duck diving is an art. My board is super floaty and I'm not so big so whenever I don't get it perfect the white water hits me and I end up riding the wave backwards and getting worked. I'm sure that it provides much entertainment for the people on the beach! The surf has picked up and the shapes of the waves are way better. Today was my best day so far as I caught quite a few decent waves and rode down the line. I can't wait to go back tomorrow morning!
My folks are in town and it's been a real pleasure hanging out with them and touring around. We recently rented a car and went to Montezuma, a village on the tip on the Nicoya Peninsula. Our friends Jobbie and Veronique joined us and we had a great time shopping, playing on the beach and enjoying some delicious cocktails. I had the Papaya Colada and I have been craving it again ever since. We've also used the car to visit playa Manzanillo and Playa Hermosa which were both beautiful and so peaceful. Noel put his line in the water, but no luck. Still, it was super fun.
Another thing that kept us all entertained today was our mud baths that we took! We collected a bunch of clay rocks on the beach at low tide, crushed them with boiling water and made two big containers of mud. We then went to the beach where we proceeded to spread the mud all over ourselves. We couldn't stop laughing as we started snapping photos. Once you are done spreading it, all you have to do is to let it dry. It feels like your skin is going to crack and it sure gets people's attention as they walk by! Once all dried, we jumped in the ocean and washed it all off, leaving your skin soft like a baby. There is nothing like a free homemade day at the spa!
I should go to bed soon as we are getting up at 5:50am tomorrow. A lady that we met on the beach will be taking photos of Noel surfing first light in the morning. It already sounds like the best morning ever! Exercise first thing as we get up and then after go enjoy some delicious Costa Rican coffee made by my lover and then go out for a yummy breakfast.