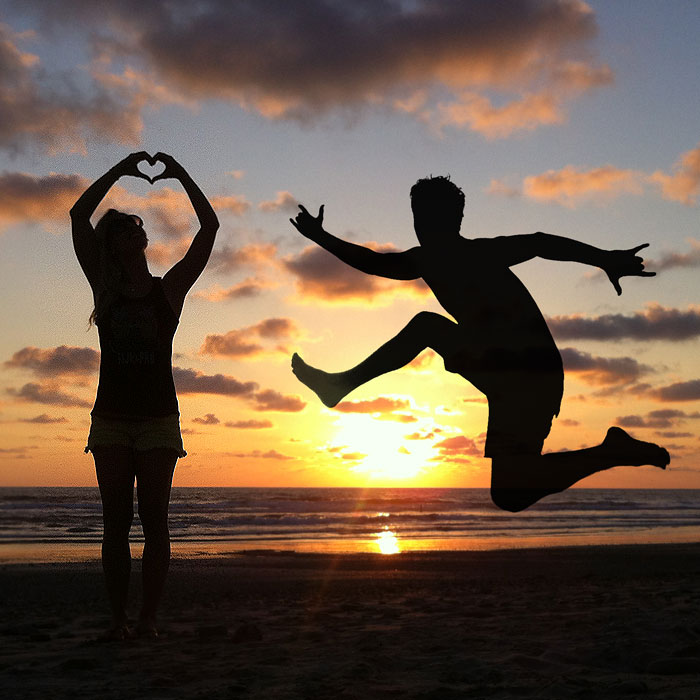 We flew out of Bocas Del Toro to San Jose Costa Rica and then connected to Tambor which is an airport with a super sketchy little small gravel airstrip on the tip of the Nicoya Peninsula. On the plane we sat in front of a guy who lives in Santa Teressa who knows Jobbie so we shared a cab with him to Mal Pais with saved us a couple of bucks which was nice. Having spent a lot of time in Mal Pais over the years it felt as though we were back to our home away from home. While there is always swell here, it's not the waves that keep us coming back, it's the people and the laid back vibe. It's super chill with great food, decent surf most of the time, and lots of fun things to do.
Our good friend Jobbie, a fellow Canadian who I met down here 12 years ago, has a surf shop and surf school in Mal Pais. http://www.jobbieslongboards.com. If you are looking for the perfect get away from the winter rains and want to learn how to surf, relax, and have a blast, be sure to look him up. And if you are wondering why his logo and all of his apparel graphics are so dam cool, it's because I have been doing all of his creative since day one. A little ruthless self promotion. What's cool is that yesterday I also designed up some shirt and ball cap designs for Product C, a local fish market and restaurant that totally rocks in exchange for free meals.
Josi had caught a cold in Vancouver just before we left and it never quite left. Over the last week she was hit pretty hard and she even had to take a couple of days out of the surf. She has been riding her now short board and was stoked to find out that she can now duck dive, something that she always wanted to do. Now that she is starting to feel better I'm sure that she will be in the surf every day. I have been waking up between 6 and 7am for an early morning surf but today I took the morning off because I paddled through some jellyfish yesterday and my arms are marked up pretty good. It hurts a bit when you first get stung, then feels like a mild burn and the next day it swells up and gets itchy. Your only defence once you have been stung is to pee on it right away, then pour vinegar on it when you get home and after that to scrape it with a credit card. The scraping is meant to get out the stingers. It doesn't help that I'm more susceptible to jellyfish stings than some and because of it seem to get stung more than most.
Jobbie hooked us up with a killer apartment right by the beach which is so great. Two bedrooms, AC, full kitchen and 24 hour security so you don't have to worry too much about things getting stolen which is good. While it's super beautiful here and the locals are all super nice, you hear stories of things going missing all the time.
Josi's parents have joined us here from Montreal and are staying through Christmas which is really great. For them this is a big adventure as they have only been out of Canada a few times and usually it's at an all inclusive. It's pretty rustic here with only gravel roads and the restaurants are often open walled huts where they cook on open fires. They are great sports and I think that they have been having a good time so far.
Yesterday we went fishing with our friend and local fisherman, Dougie (https://www.facebook.com/douglas.castrillo.14). $150 gets you a boat that can sit 6 people out on the open ocean for 4 hours. Dougie is a great guy and as far as the local fisherman go he is the best. If you are ever down here I highly recommend that you send him a message and have him take you out. Josi caught a big Amber Jack, Luke caught a huge Mahi Mahi (Dougie is holding it up in the photo below, I caught a super tasty Yellow Fin Tuna and the rest of the team caught nice size Amber Jacks as well. We saw dolphins, huge sea turtles and lots of fish. Needless to say, we are all going to be eating lots of fresh seafood for the next few days!
Well, it's hot and I'm itching to go for a surf so I'm out of here. At some point I will pull out my good camera and will take some nicer photos. And if the surf gets big then we will be sure to get some surf photos as well.