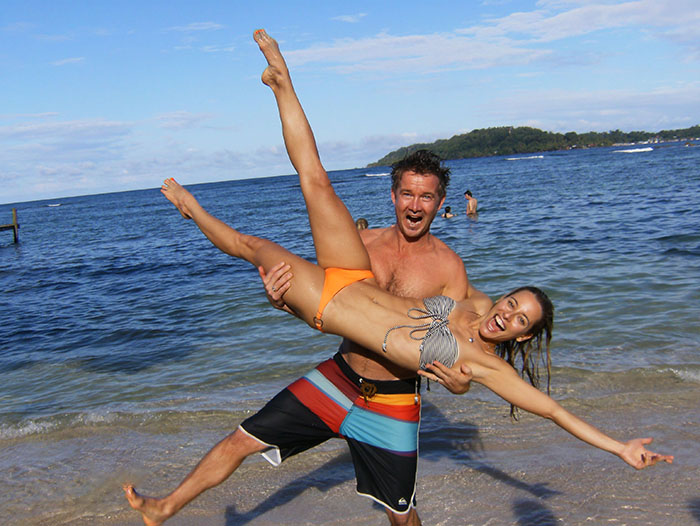 Bocas Del Toro ended up being a shorter stay than expected. It was overcast and grey when we arrived in town which didn't make for a great first impression. I was wondering where that turquoise water that you see in the pictures was. We had shortlisted two hotels from our online research and the luckily, the first one we went to had a beautiful room available and overlooking the water. Most of the houses and hotels over there are on stilts and sit right overtop of the water. It makes for a nice scenery and a calming sound at night. I have to say though that the shore right underneath the houses in covered with trash. Luckily, it's not the whole shoreline that is like this, but most of the shoreline inside the bay is. The trash from surrounding areas floats away and gets trapped there. Once you enter your hotel, you don't notice it, but still it was on my mind. I am not sure what the solution is to fix the issue and bringing more awareness to the problem might be a start.
Unfortunately, we didn't get to experience the surf at all during our stay as there was no swell. We kept busy though with a bit of work and beach hopping. There are so many beautiful beaches in Bocas del Toro. They are either accessible by bus or boat rides for super cheap. Playa Estrellitas was my favourite. You can access it via a 45 minutes bus ride from Bocas town and you get to see more of the country side. It's only $5/person round trip. Once you get there, it is a 15 minutes walk along the ocean. Once we got there, we took a short boat ride to check out bird island which was beautiful. The boat went around as you cannot get out and got us back on the beach where we hung out for a several hours. Before leaving we had the most delicious seafood dinner at a little white shack on the beach. I had the prawns which were served with a tasty tomato, garlic and pepper salsa, a side of coconut rice, a fresh salad and patacones (Green plantain chips). The whole meal was tastier than some of the meals I had at fancier restaurants back home and cost only $10.
The following day we went to a private beach on Carenero Island. As we got out of the boat on this narrow wooden pier I noticed this super long skinny snake hanging out by the gate to the beach. I proceeded with Noel's help to jump off the pier in the water to avoid the creature. One guy who was hagning out on the beach made a comment about my lack of bravery and that was our introduction to Yves Guillaume and a couple of his friends. We started chatting and had so much fun getting to know them that we ended up going for drinks a Bibi's, a beautiful restaurant on the water.
The 3 days we spent in Bocas were enjoyable and overall I am very glad that we went to check it out, but with no surfing and chilly weather, it was time for us to go. A phone call later, we had changed our departure flight and are currently on our way to Costa Rica.