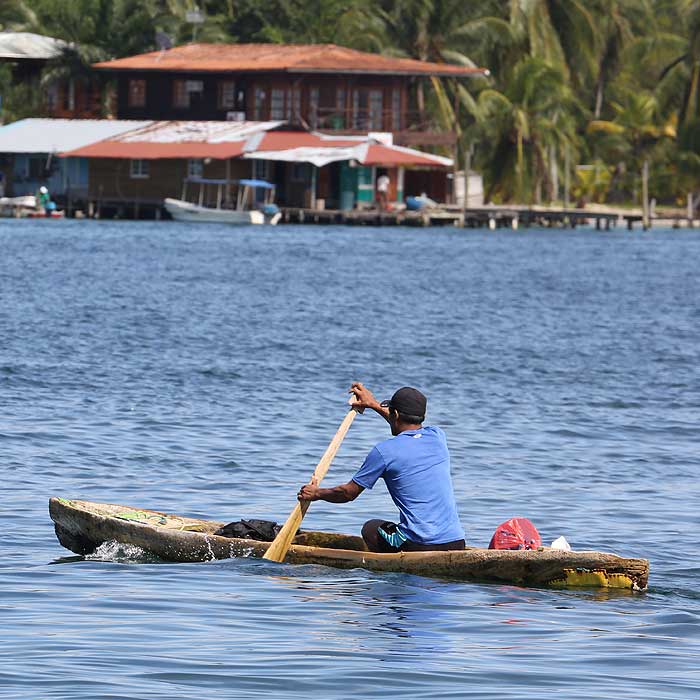 We took the night bus from Panama City to Bocas which cost $55 for both of us which seemed like a great deal. Save the costs of a hotel for a night, and $220 in airfare. Half asleep and in the middle of the night as the Feds checked our passports we were second guessing our decision. We should have guessed it was going to be weird the second a bus worker talked to us in length about the importance of not going PoPo on the bus and then promptly after showed us his bare belly that protruded as though he was giving birth to an alien. At first I though that he had experienced first hand the importance of not going PoPo on the bus, but he then walked the isles asking for money. Even the locals were giving him change to I chipped in a dollar assuming that he was collecting money to pay for sorting it out his tummy problem. We were loaded up with snacks and the trip started off fun like adventures are meant to. Come the middle of the night the AC was cranked and we were freezing. Luckly we had towels to use as blankets. A little later in the night and two security checks later, one that included showing passports, two food stops at the typical weird restaurants that busses always seem to stop, and the driver rocking his latin music all night long was just enough to ensure that we didn't get any sleep.
When the bus finally dropped us off in the early hours of the morning it was pouring rain and a bit of a panic. We were swarmed by tax cab drives asking to take us to the boat launch. Bocas is group of islands and the only way to get there is either by water taxi or by air. When the boat pulled into Bocas I was a little surprised by how developed and how run down things were. I guess that it didn't help that one of the first locals that talked to me was a sketchy Caribbean guy asking if I wanted some weed.
After a few days the sun came out and things seemed better. Yes, the same sketchy Caribbean guy kept asking if we wanted weed, but we stopped seeing things as old and falling apart and quickly came to appreciate it's unique Caribbean charm. The town is built up a little much for our liking, but a short water taxi, taxi or walk away you can find your own little piece of tropical paradise complete with palm trees, warm tropical ocean and a slight hint of what you can see may be great surf on much bigger days.
Most of the guest houses and restaurants in Bocas are built on stilts over the ocean which is super cool. Partly to keep them cool and part to keep out the rats and bugs. Even still, we were told that they have to spray for pest often.
We researched Trip Advisor for best value places to stay and ended up staying at Bahia Del Sol for $88 per night. It may have been a bit much, but they had a fast internet connection which was great because I was able to complete my photography site (http://www.noelfox.com), and it came with a good breakfast every morning complete with great local coffee. Jack and Lee, the couple who run the place, are a nice and somewhat odd American couple. I'm not sure why, but must of the people who move the tropics are a bit odd in one way or another, but then again who isn't. After breakfast Jack takes the scraps of leftover fruit and throws them off of his patio into the sea where hundreds of fish would come to feast. I really wanted to fly fish off of their patio, but I feared that I would be catching Jack's pet fish rather than the bigger, more tasty fish I was after. Our room was only feet off of the water and the sound of the small wind waves lulled us into deep sound sleeps each night.
We really enjoyed taking water taxies to deserted beaches and to the little villages in the area for between $1 and $5 per person. You can flag them down from the beach and they will rush in to take you to where you want to go.
One of our highlights was a trip up to Starfish Beach. We took a 45 minute bus trip with mostly locals to the north end of the island for the day. Then either a 15 minute hike through the jungle lined seaside, or another boat trip and you are there. If you go, we recommend eating the seafood at the middle, white beach side shack that's run by a really cool Caribbean gentleman. When we arrived at the beach there was a 15 room, 72M private cruise ship docked just off shore and a small group of older Russians had set up a small luxury camp on the beach. Servents/ crew would race back to the ship on jet skis or in a large white Zodiak style of boat bringing back champaign and service what ever their needs might be. In talking to the crew and were surprised to find out that the guests were each paying $65,000 Euros a day. When they left our new friend gave us their left over Caviar & Egg covered crackers, pastries and raw vegetables which we enjoyed eating for lunch.
The main reason we chose to go to Bocas was because of it's great surfing. Unfortunately, even though early December is considered high season, there were no waves while we were there and nothing epic in the forecast so I called up our buddy Jobbie (http://www.jobbieslongboards.com) in Mal Pais Costa Rica to ask what was going on over there. As always Jobbie said the surf was epic to we double checked his claims online and sure enough it's going off. We quickly changed our flights and are now headed for the Pacific. While we would have loved to spend a little more time in Bocas Del Toro, Costa is about 10 Degrees warmer and there are way better waves at the moment so we are out of here.
Next stop, Mal Pais, Costa Rica. Pura Vida!