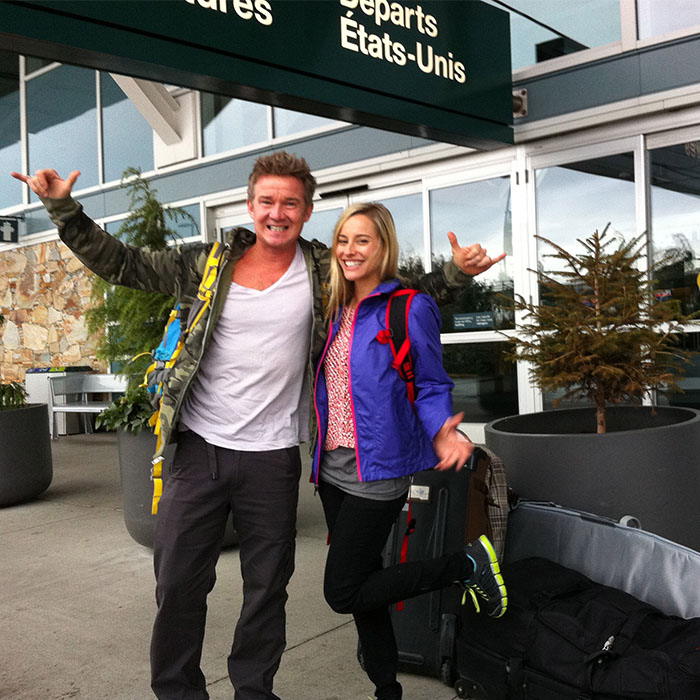 The world adventure has begun! It was more than a year ago that Noel and I decided to embark on trip around the world. For a while, we weren't sure of the exact date of our departure and since the summer is so nice in beautiful British Columbia, we decided to stick around and enjoy the sunshine. It was perfect really since it gave us time to go to Mexico for two weeks for a swimwear photo shoot/ surf trip, and prepare for this trip. It took a lot more preparation that I had envisioned, so we both ended up working a lot more than expected and the trip, even though it was coming quickly, seemed like it was never going to happen.
Noel's mom drove us to the airport and it is only when we sat down on the plane that it felt real!
We have been gone for 4 days now and it seems like it's already been forever. Vegas was a blast! Staying awake all night was definitely the call and it made for a sleepy plane ride on our way to Panama.
It is the first time for both of us here and we didn't know what to expect at all. I was surprised to see how many high rises there are in the city and how tall they are. My guess is that the tallest is around 80 floors and the crazy thing is that it is right next to the ocean. The architecture of some of these new buildings is impressive.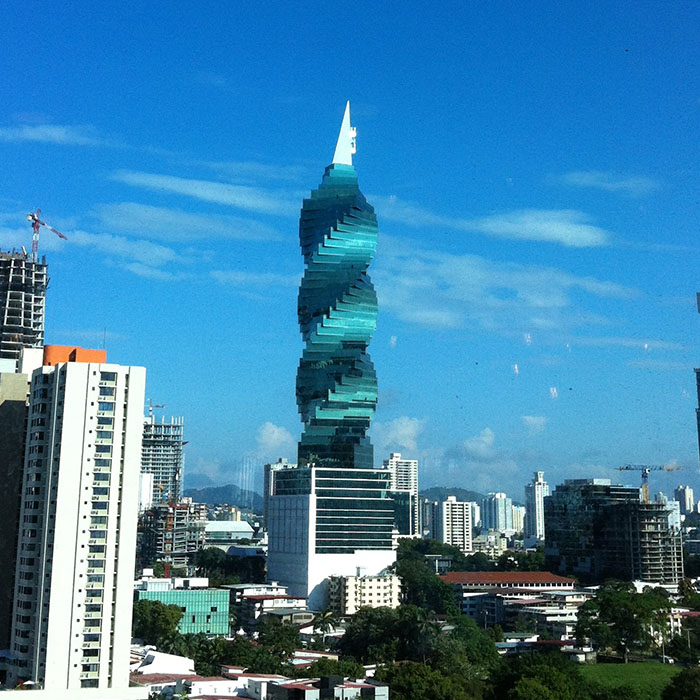 The old part of the city: Casco Antiguo is beautiful and great fun to walk through. The old buildings now house government offices, churches, restaurants, stores and hotels. It definitely has a tourist vibe and at the same time it is vibrant with the locals presence. Casco Antiguo is on the other side of the bay from the downtown area and it makes for a bit of a clashing scenery. While most of the government buildings are revamped and quite charming, the rest of the area is surrounded by dilapidated buildings and rough neighbourhoods.
Unfortunately, there is no real surfing right in the city, so after two days, we decided that it is time for us to move to our next destination: Bocas del Toro.
We could have flown there easily within 45 minutes and we decided that saving a few bucks by taking the bus was a great idea. It is an 11h bus ride! Ouch! In fact this is where I am writing this post at this very moment. I love going on bus rides in tropical places because it gives you time to reflect on what you've seen so far and plan your next adventure. That being said, the real reason why I like bus rides is that you get to bring snacks! And shopping for snacks in tropical places is the best!
First you get as much local food as you can: empenadas and locally made ham and cheese croissants are the best! Second you get to choose between all the sugary snack from your youth and some that you never even heard from before! The labels are usually pretty awesome too, in a non American kind of way! Third is the drinking yogurt! I don't know why we don't carry more in our grocery stores back home in Canada, because it's are purely delicious and they have all the fruit flavours that you can imagine. I have to say that the mango and passion fruit mix is my favourite so far.
My sugar rush is finally coming to an end so I will put my headphones on, listen to a audio book and pray for the bus driver's assistant to find the key to for the bathroom which has been locked since we left the bus terminal a couple of hours ago:)