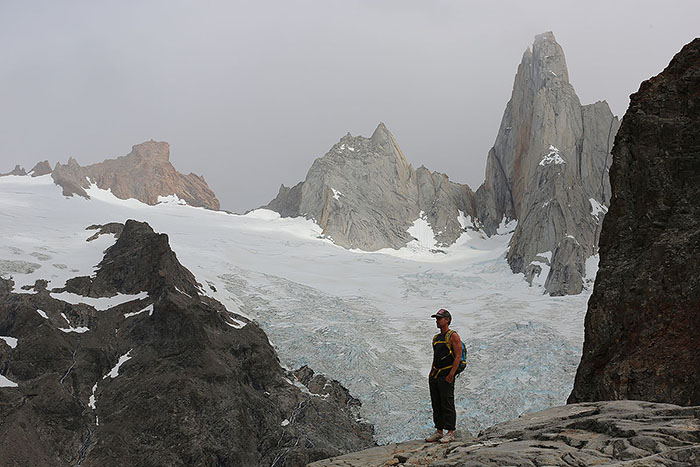 As you drive up to El Chalten you can't help but be amazed by how massively towering the jagged mountain peaks are as they make for the most magnificent backdrop above this little town. Everything becomes more and more miniature, yourself included, as you slowly draw closer. Their peaks look like someone took them into Photoshop and stretched them vertically into unrealistic proportions.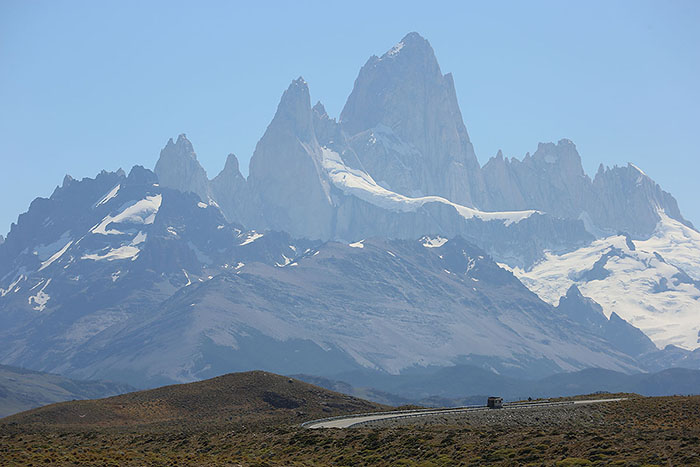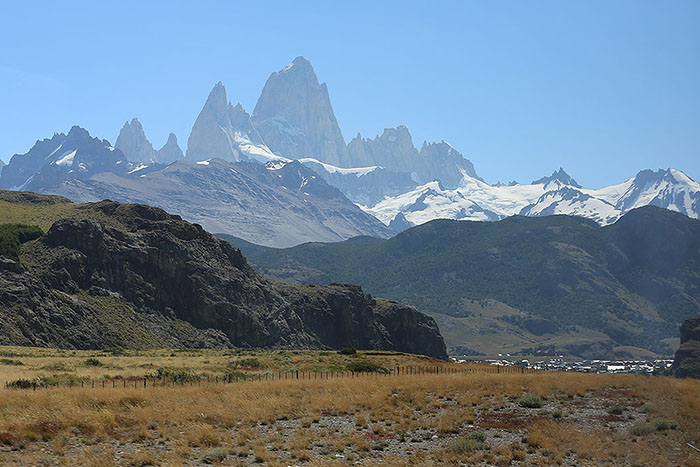 Everywhere we had been prior was a little more built up and touristy than what we were expecting from Patagonia so we were stoked as we pulled into the small town of El Chalten and the rugged peaks that tower over it in all directions.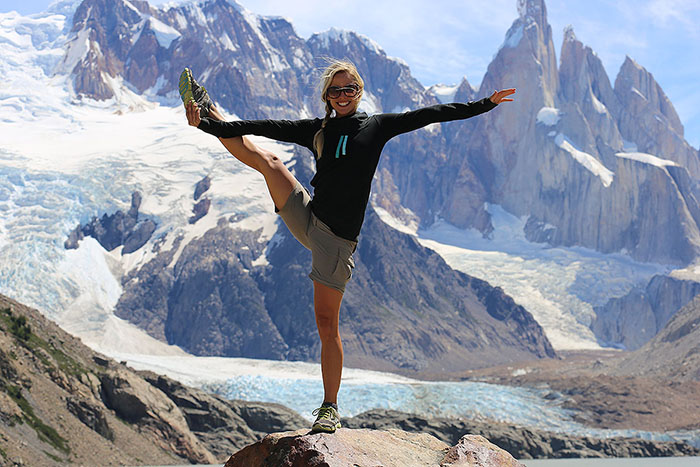 Before being let off at the bus stop we were taken to the the parks information centre for briefing of do's and don'ts. It was like when I went cat skiing and before they let you have your fun they tell you the dangers, give you some very basic survival tips and then set you free to be as extreme as you choose to be. Having packed for a 6.5 month surfing trip around the world rather than a one month trip to Patagonia we weren't prepared to push the limits as far as we might of otherwise. Hearing stories of people who have climbed to the tops of the biggest peaks with no visible way of possibly making it up. Not to mention that the weather seemed to change on a dime with the winds going from none at all to firing in one direction so hard you would almost fall over and then changing it's mind and firing the other direction with even more force. We did some pretty big hikes well over 20k that took us to some amazing alpine places that few will ever have the opportunity to witness so in our own way we did feel pretty extreme.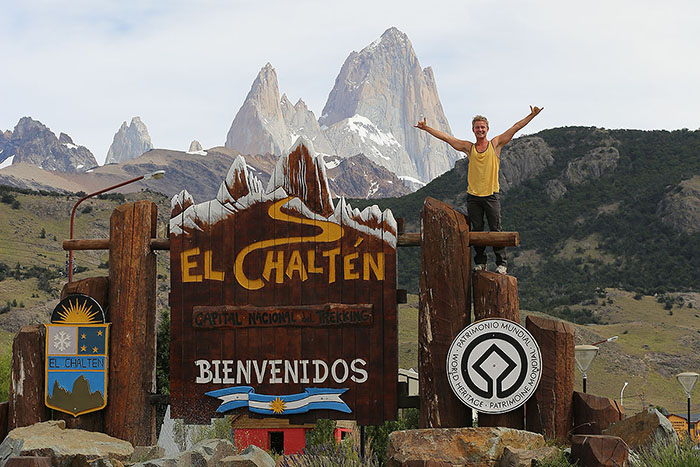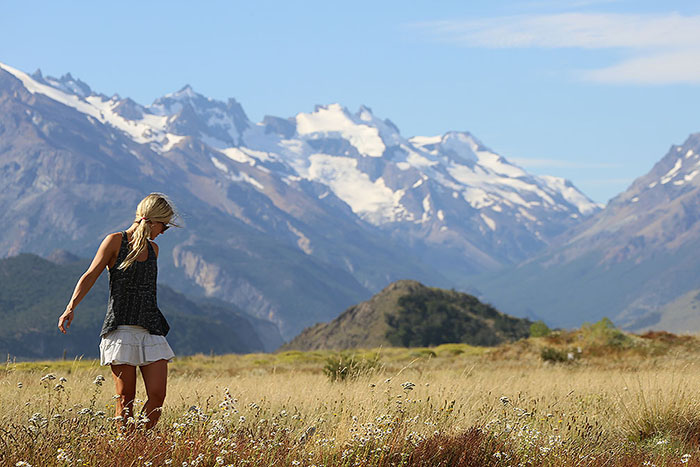 While we did have the ocasional clouds that blew in here and there the locals told us again and again that we were in luck with the weather. The days were mostly warm enough that I only wore a tank top and pants. For the first time in our trip I actually felt chilled at night and would go out bundled up in my hoody and long pants. The town of El Chalten was built in the mid 80's as a tool used to win a land dispute with Chile. Both countries laid claim to this remote and undeveloped part of the Andes and Argentina. Before that there was nothing there, not even a road and now there is a bustling little town that caters to hard core outdoors people. There is construction on every corner and we have been told that it bustles in the summers and then slows right down in the winters. The one thing that amazed us is that most of the structures are built out of either cinder block that seems very fragile, or particle board. In an extreme location like this that has all kinds of weather I would never imagine that anyone would build a home or a business out of particle board.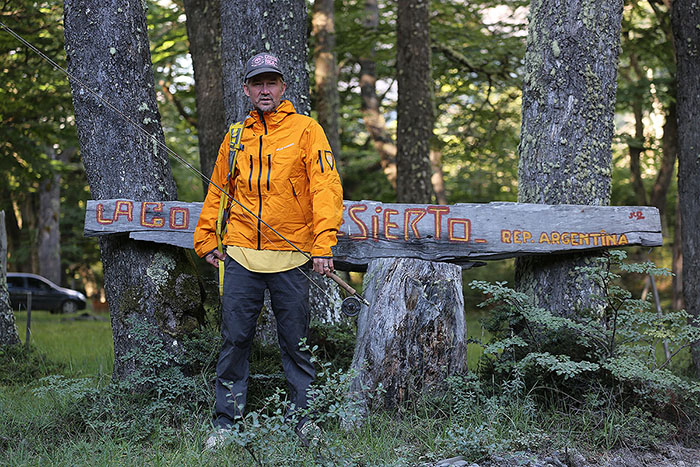 The hotel where we were staying had photos of the owner holding huge rainbow trout in the 20 to 25lbs range so I knew that we were in a good area. I was considering getting a fly fishing guide, of which there were two in town, so that I could finally catch some bigger trout. The main guide in town told me that for almost $300 CAD he would provide waders and flies, feed me lunch and take me fishing on a river for the day. He told me that we would catch 40 fish in a day which seemed pretty great, until he told me that most of them were going to be around 7 inches with only a chance of a bigger fish. We went to the other guide and the girl working at the front desk told me that for the same price we would fish a lake and would likely catch 2 or 3 trout about 2lbs each. I knew that I didn't want to pay for a guide to catch loads of small trout as I can do that back home for free. I also knew that I didn't want to pay to fly fish from shore on a lake because I knew that I didn't need a guide for that as I could do it on my own.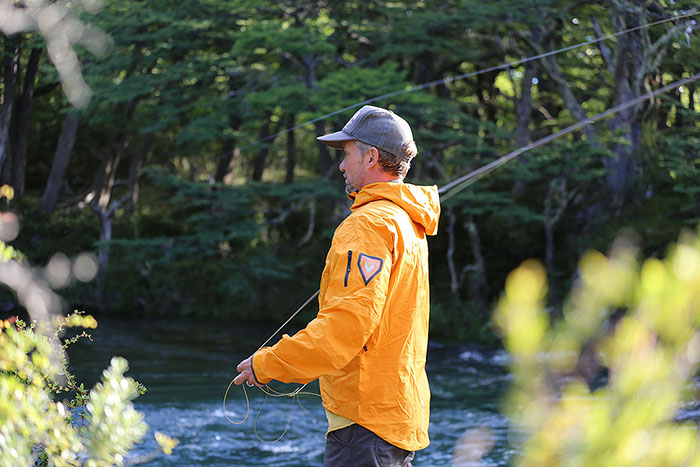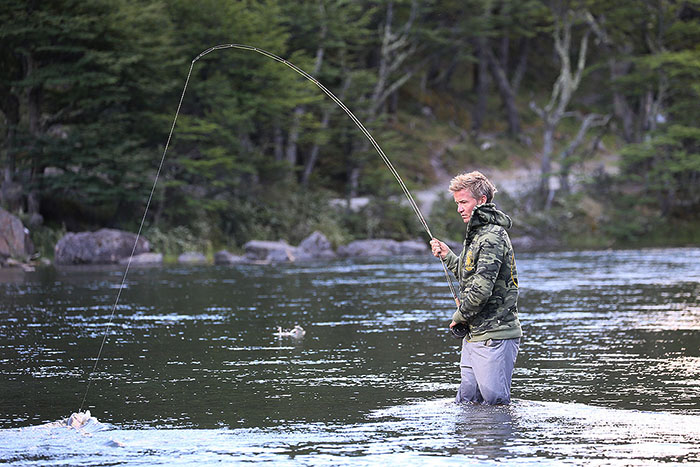 I ended up going to a small outdoor store that also sold flies and the old guy that worked there showed me a few dry flies that he thought worked well in the rivers. I was stoked to see that they looked a little bit similar to the multitude of flies that I had brought from home. I bought two flies from him in exchange for his helpful knowledge and the next day we set off on a 1 hour shuttle bus trip to a lake that buts up against the boarder of Chile. Right when we got off the bus there was a sign that we translated as no fishing for 200m. I wasn't sure so we asked the bus driver and he explained that we were not aloud to fish on the lake side of the sign for 200m. I was stoked because there were trout jumping everywhere so I quickly started casting into the crystal clear river. Within minutes I hooked a big rainbow trout about 3 or 4 pounds. It was funny because within minutes there was crowd of about 20 Argentinian tourists watching me fight this fish. I got it right up to the shore and as I was about to release it it snapped my line. I was surprised because I had just bought new 6lb tippet which should have been more than enough as to not snap. It felt good to hook into such a big fat trout and I was a little bummed that we didn't get a good photo before I released it. I was also bummed that I had only bought one of the particular flies from the guy and that it was now gone. Before I was even able to get a new fly on, a military/ parks guy came up to me and asked for my fishing licence. In all of my years of fishing I have never been asked to show my licence so I'm happy that the one time it cost me $100 to buy it it actually got put to use. On top of wanting to see my licence he also informed me that the sign read that I could not fish within 200m in any direction of which I was clearly within about 5m. Luckily there were a few locals there who were with me when I was asking what the sign meant and they backed me up and let him know that a local had told me is was OK. He was cool and pointed out where I was aloud to fish and let us go. Josi asked him if we were aloud to keep fish in the river and he said no we had to let them go. He then said that he would make an exception and if we were to bonk it and put it in our bag quickly he would let us keep it. It seemed a little fishy to me, kind of like a story a surfer friend of mine who was in Mexico who bought a joint off a local, who's friend was a police officer that just happened to be around the corner. The cop busted my friend, took the joint and gave it back to his friend and then took $100 from my buddy to let him go. Regardless of being a trap of not, as soon as we knew that it was all catch and release river we decided to not keep any.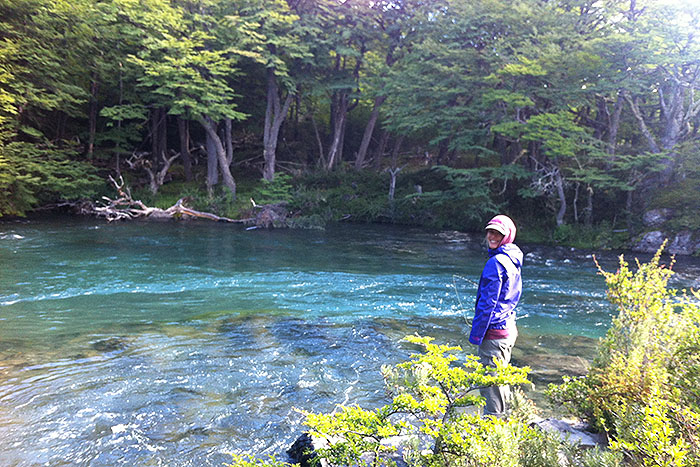 Having just lost my one fly that hooked a big trout I went straight for one of the flies that I tied. I'm not sure if its just me, but I love fishing with flies that I personally tied way better than store bought flies so I was stoked. I was even more stoked when I started getting bites on almost every cast and catching fish after fish. The biggest fish I caught that day was a brown trout about 20 inches and I lost a rainbow that was much larger. The river was packed with fish. I caught about as many browns as rainbows. The thing I noticed about the rainbows is that they were really fat in compared to the ones back home. There was a glacier hike that we were planning on doing that day, but I was so excited to be fishing, and catching fish, that I couldn't leave. Josi was a sport and sat in the chilly breezy sun and read while I had my fun.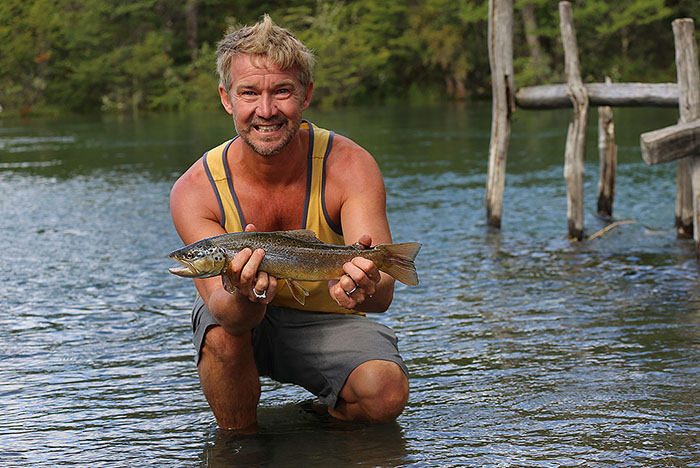 A few days and a couple of really big hikes later we came back to the same spot for another day of fishing. This time Josi did the glacier hike on her own and I stayed and fished the river once again. The water had dropped quite a lot over two days and this time I was able to wade out into the small cold river allowing me room to cast to the banks on the far side. There I hooked into a really large rainbow that got off and shortly after that I hooked into another really big brown. This time I was determined to get it in and fought it more gingerly because I knew that I didn't want to snap off again. Right when the 4lb brown was at my side and I was about to lift it so that I could take the hook out it snapped off. I couldn't believe that another one snapped off. I tested the line that I had bought and it was strong so I'm not sure what was going on? Perhaps the pull of the river was adding a few pounds to their already large size, or perhaps it was because I wan't handling them in like I do when I want to keep them. Either way it was great to hook into some really decent size trout on a beautiful river using a dry fly.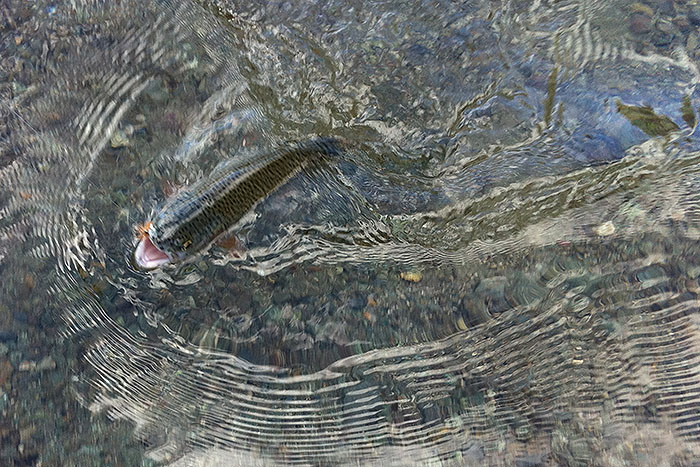 After spending a week in El Chalten I started to hear about more and more spots with great fishing, all of which are off the beaten path. When we come back to Argentina we will be sure to bring full trekking gear and will spend way more time way off the grid in search of some of the really big trout that I have only heard about in this part of the world.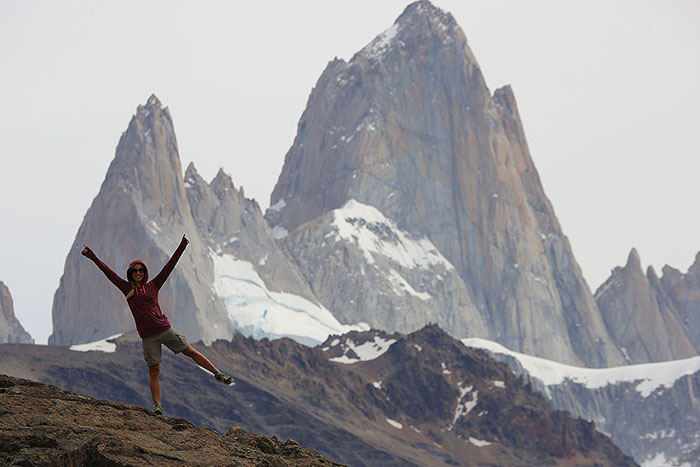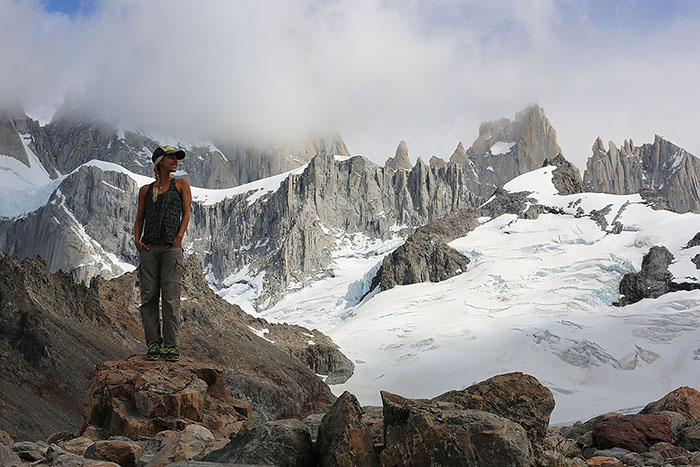 Argentina and specifically southern Patagonia was a wonderful adventure that exceeded my expectations and I'm sure that one day we will be back. I'm writing this blog post from my big oversized, business class seat that fully reclines into a bed as we fly over the Atlantic on our way to Cape Town. I have never been to Africa and I'm super stoked for what adventures lay in wait.