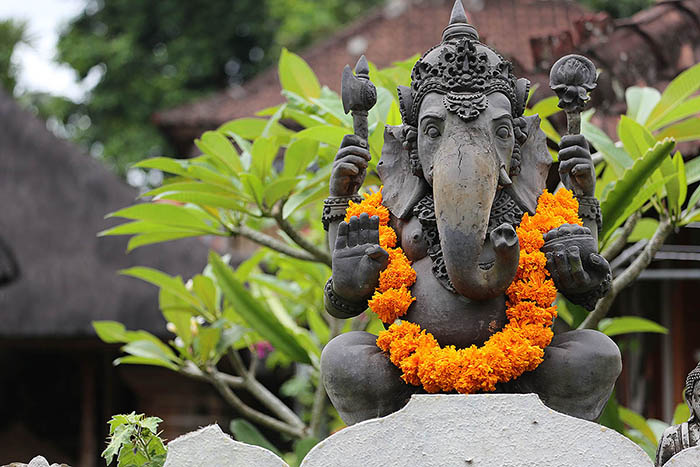 While we had a great time in Vietnam, Noel and I were more than ready to trade the pho soup for some delicious Gado Gado and satays. Noel's mom who has been travelling in Borneo for the last little while, decided to come to Bali a little earlier than planned, so as soon as we heard we did the same. A phone call later and we had our new tickets in hand and we were Bali bound. The first leg of our flight was only available in coach and we were ok with it, knowing that Bali's tropical waters were around the corner. What worked perfectly was that the second leg of our flight was still business class meaning that we were able to enjoy our 3 hour lay over in the Singapore Air first class lounge. Of all the lounges that we visited this one was absolutely awesome and the best that we have experienced so far. The food and drink selection is over the top and the nice ambiance gave Noel and I a chance to catch up on a few emails.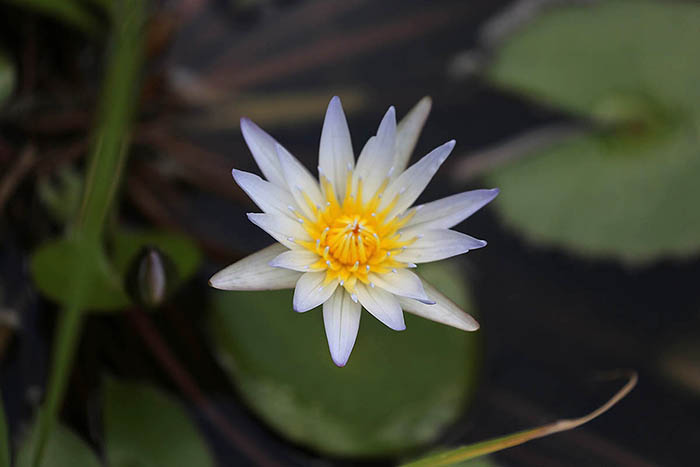 Even though we are mostly visiting places where we had never been before, Bali is an exception. Both Noel and I had been before on separate occasions and we both loved the thought of experiencing this beautiful island together. Last time I was here was nearly 4 years ago when I did my yoga teacher training up in Ubud. Noel's mom had gotten to Bali before us and had set up camp in Ubud so Noel and I headed straight there once we landed. I was expecting Ubud to be unchanged from when I last left it, but like most thriving tourist destinations in this part of the world, it had grew a little too much for my liking. The are definitely too many fancy shops and way too many taxi drivers harassing you for their business. Don't get me wrong, it's still lovely and I would recommend going for a visit, it's just that it has lost a bit of it's Balinese character. What I miss the most is that four years ago the Balinese would all great you using Indonesia Bahasa and now they all speak English. Even though it's convenient, I think that it's a bit of shame.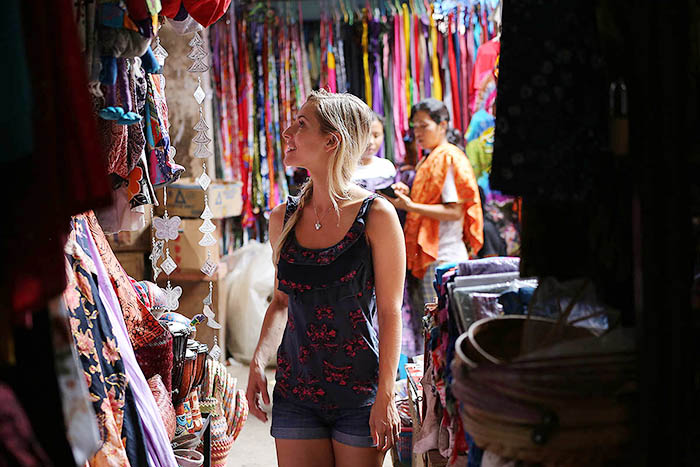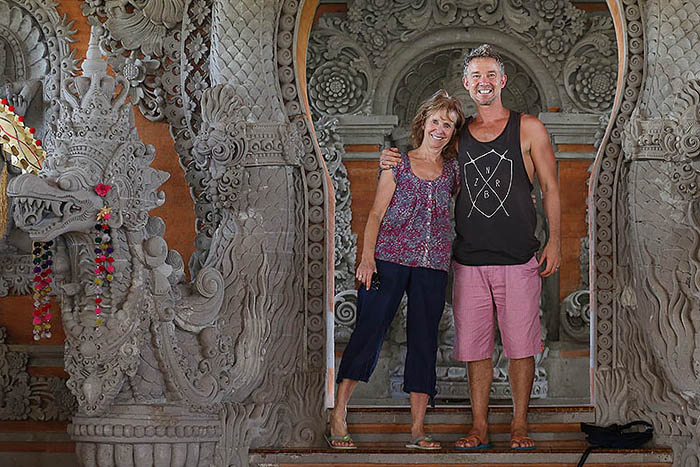 Noel and I are determined to get back into our yoga routine and with two magnificent studios in town, it's perfect to get back into the grove. Our hotel is really close to The Yoga Barn which has a great yoga pavilion overlooking the rice fields and offers tons of different classes. Another studio is Radiantly Alive which is where I did my teacher training. They have since expanded and have a stunning studio right the heart of Ubud, just across from Bali Buddha for those who know the area. It was great to reconnect with one of my teachers, Daniel Aaron and take one of his perfectly challenging classes. Noel and I are hoping that a few classes will be a good kick start for our upcoming week long yoga retreat here in Bali with our good friends Eoin Finn and Insiya Rasiwala-Finn. They are friends from back in Vancouver and they now travel the world with their yoga company which they aptly named Blissology.
One thing that remains unchanged in Ubud is the Monkey Forest that's in the middle of town. For only a couple of dollars per person, you get to explore this beautiful park that's absolutely filled with cheeky little monkeys, really neat statues and walkways. These monkeys are not shy at all, allowing you to snap great photos and witness their cheekiness as they jump on tourists backpacks and steal their sunglasses and what ever else they can get their hands on. The babies are definitely the cutest of all, especially when they hang from the mom's belly while she runs through the trees. It was all fun and games to watch until one the monkeys climbed on a girl and accidentally scratched and cut her back. Noel's mom and I immediately started thinking about rabies which the monkeys have been know to have and we decided that it was time to go!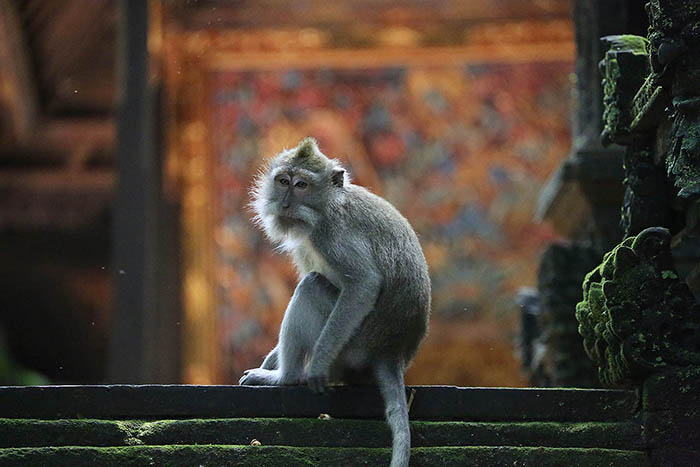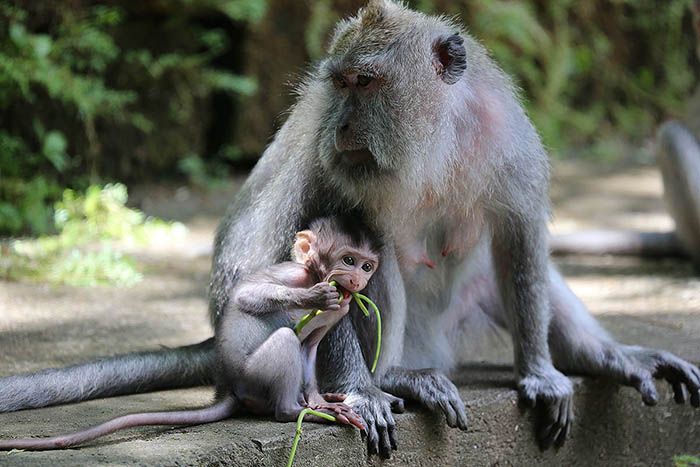 While in Ubud, we went to see a traditional Balinese show involving live music and dancing. What was particularly neat about this show was that all of the talent were local women. All of the musicians except for one man who we assume was filling in for his wife had been practicing together for several years and were proud to perform in their bright blue and pink traditional outfits. There was also a troop of great dancers who entertained us for nearly an hour and a half. It was impressive to see all the gestures they incorporated in their dances as well as the facial expressions and movement of the eyes bringing a cartoon like feel to their characters.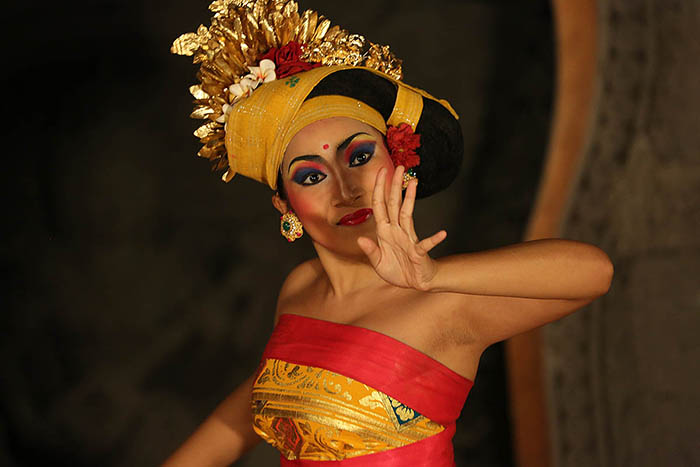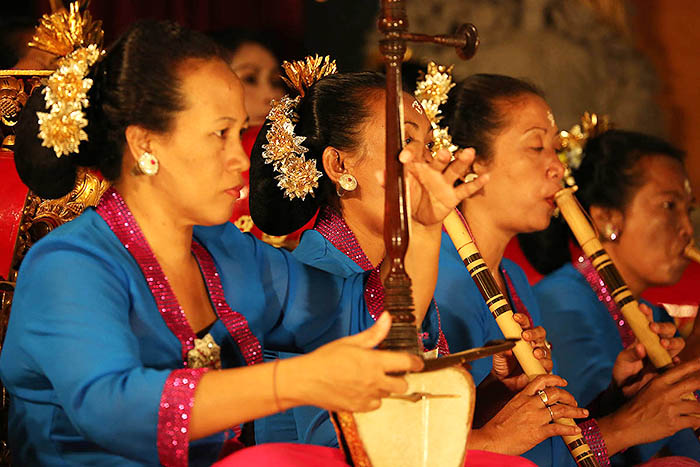 After a few fun days in Ubud, we are off to the little car free island of Nusa Lembongan for a week of peace, relaxation and surfing.