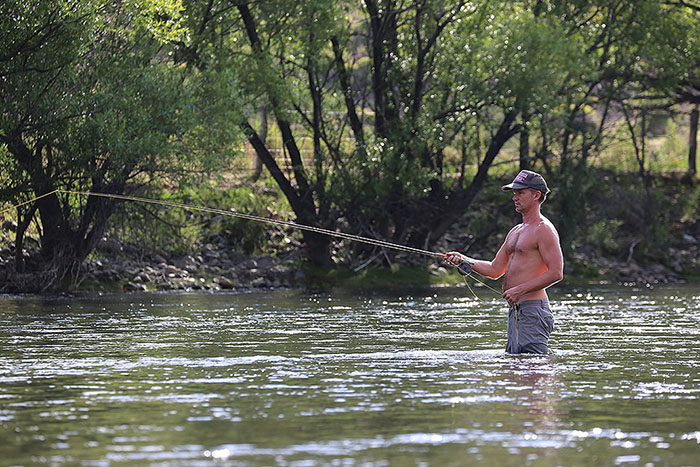 We opted for a 22 hour bus ride from Buenos Aries to Bariloche rather than spending the extra on a flight. We had been told that the busses were pretty great, as far as busses go, so we had to give it a try. Unlike the busses back home in Canada, the busses in Argentina have seats that go right down into a slightly angled bed with a full leg rest so you can actually lay out and get pretty comfortable. They also play fairly decent movies in english, feed you 2 course warm meals complete with wine and desert, give you blankets and pillows and when they do stop it's only for a few minutes so you aren't stuck wandering around weird buss stops in the middle of the night while the rest of the people line up for bad food. All up we arrived well rested and it was a pretty good experience. If I was a few years younger and had all of the time in the world I would likely take busses all over the country, but since we only have a month here and our next destination is a 33 hour bus ride away and then the one after that is even further we are going to take planes from here on in.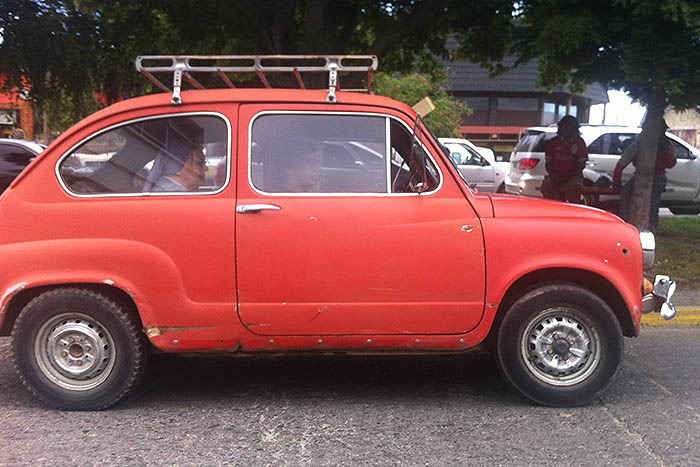 Everyone tells us that we got lucky with the weather as it's been in the mid to low 30's which is well above their average. Bariloche reminds me of a bigger Nelson in the way that it's a cute hill side town overlooking a lake and is situated about 11k from a really great ski hill. The main roads are paved and most of the smaller ones are gravel and very dusty. The main strip in town is quite a bit larger than I was expecting and there are lots of scruffy hippy types milling about. The tourists, of which there plenty, flock to the many chocolate shops and buy in bulk. My overall impression of Bariloche is that it's larger than what I was hoping for, a little run down and a bit spread out. I guess I was expecting a South American Whistler type vibe and it wasn't quite up to par. Having such a great summer and winter vacation like Whistler in your back yard is something that I will never take for granted.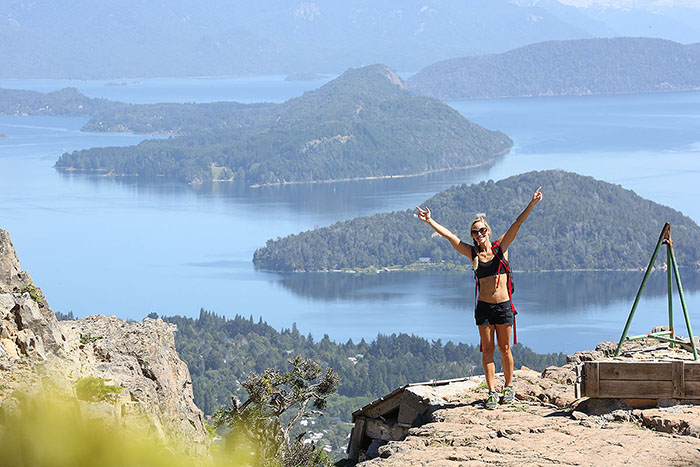 After a few days of taking busses and taxis to various trail heads for our hikes we opted to rent a car for a week. It wasn't cheep, but it was worth it because if took us to places we would have never seen otherwise. One of the first things I noticed about this part of Patagonia is that regardless of how far up a remote gravel road you are, you are sure to run into loads of young people hitch hiking with back packs and trekking gear. They must just pop out of the mountains, find a road and start hitch hiking because they are in the most random spots. The same goes for people fly fishing. It didn't seem to matter how remote we were people were everywhere. I guess crowds are to be expected as this area of Patagonia is considered close (22 hour bus ride) to Buenos Aries and in their summer a lot of them vacation here.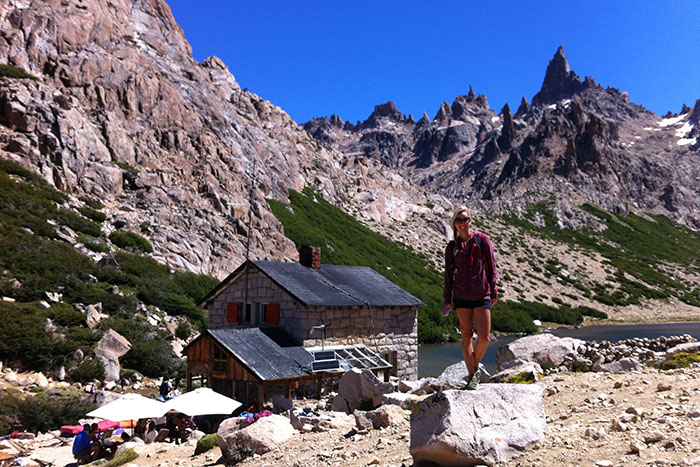 I was keen to find out where the best fly fishing was and Josi was keen to hike every mountain peak. Back home in BC Josi and I usually find mountains to hike that have good fishing at the top so we both get what we are looking for. In Patagonia, when you hike to the top of mountains you are way above tree line and the freezing cold lakes at the top are void of fish because they at the foot of giant glaciers and full of silt. We came to a silent and mutual agreement that for most every day we spent hiking a mountain we would also spend a day finding river to fly fish.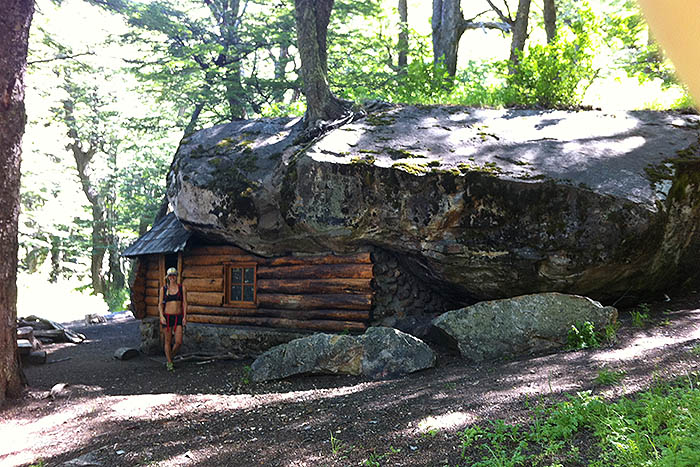 The day after we arrived in Bariloche we did a 16k hike up a mountain peak that overlooked Bariloche and the surrounding lakes. Going up was easy, but one the way down we chose the more direct route to get home which was straight down under a gondola. Going down would have been a great ski run, but on foot your toes start to jam against the tips of your shoes. By the end the day our feet were pretty sore. The next day we hiked 24k on a much much bigger mountain called Refugio Frey who's trail head starts from Mt Cathedral. Along the way we came across a super cool cabin built partially under a massive huge boulder that is used as a refuge for climbers. At the top there was another cabin/ refuge beside a small lake. Here there were many climbers camping with their tents sheltered by small stone walls to protect them from storms. It was a really cool vibe as people played music, socialized and climbed the many cliff faces that surrounded the camp. By the time we got to the bottom we were pretty spent and getting to see such amazing sights made the trip well worth the effort.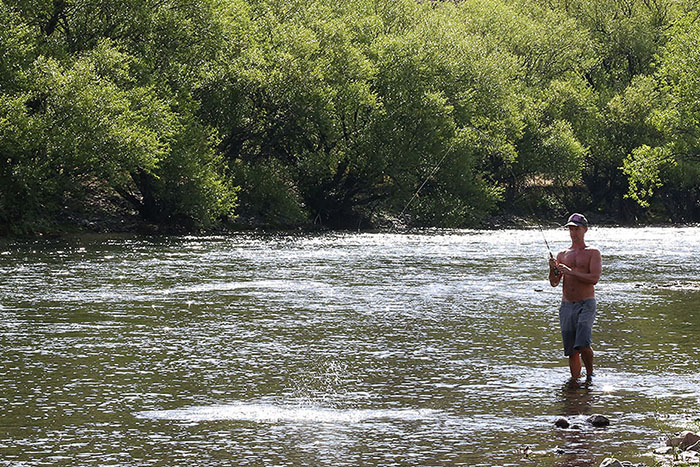 After back to back days of climbing and one day of shopping around Bariloche is was time to go fishing. I read online about one fishing store in Bariloche that was meant to be good so we went in to buy some flies and to talk to them about where the fishing was good. When we got there the older lady working was smoking a cigarette while she helped some other customers so I checked out their fly selection. I though that I was going to be in trouble because I had packed a bunch of trout flies that I tied back home that work really well for cut throat and rainbow trout up in Canada, but the ones they had looked nothing like the ones I had. When I asked the lady what flies worked well and where the fishing was good she pulled another drag from her smoke and told me that she didn't know and went back to her smoking. Needless to say I didn't buy anything and hit the road with the flies I had. After driving a while we pulled up at a river to have lunch and I fished for a little. It was pretty heavily fished and I didn't have any luck with my dry flies, but thought I may have had a bite on a nymph. When fishing in a river you can't always be sure if you had a bite, or you are bouncing off of the bottom. After lunch we continued on and stubbled onto a little river on a dead end road that lead to a lake so we decided to give it a try. The first thing I saw when we got there was a big brown trout about 4lbs jump out of the water along with a few nice sized rainbow's jumping as well. I was so dam excited I could barely wait to get my fly in the water. After fishing for a while with no bites I stopped a local who was fly fishing with his son and asked him if he could recommend any of the flies in my box. He shook his head in disapproval and pointed to a couple of yellowish flies and said "colour", but that was about it. I fished for a while longer using the few that he pointed at and still no luck. We couldn't catch them so we decided to join them and jumped in for a refreshing swim in the crystal clear water.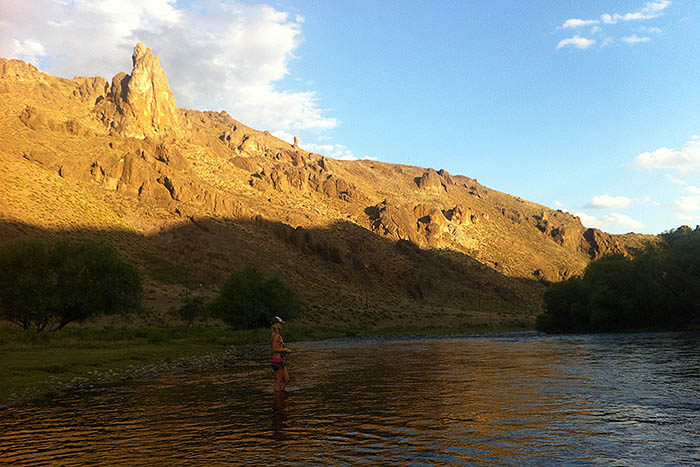 When we got to the next town we found a proper fly fishing shop and this time is was more of a familiar experience. The guy in the fly shop showed me a selection of dry flies that work well in the area and then pointed on a map to a spot on a river a few hours away. Unlike the flies we use back home these all had big long legs and they look very real and bug like. All geared up we packed a lunch and headed out. One thing that I find really interesting in Patagonia is how in one minute you can be in a lush green forest with lakes and mountain peaks so high that they reach up and touch the sky and the next minute you are in a virtually flat dry and dusty desert with dusty gravel roads that go straight for miles. It's a contrast that I'm not used to having grown up in BC.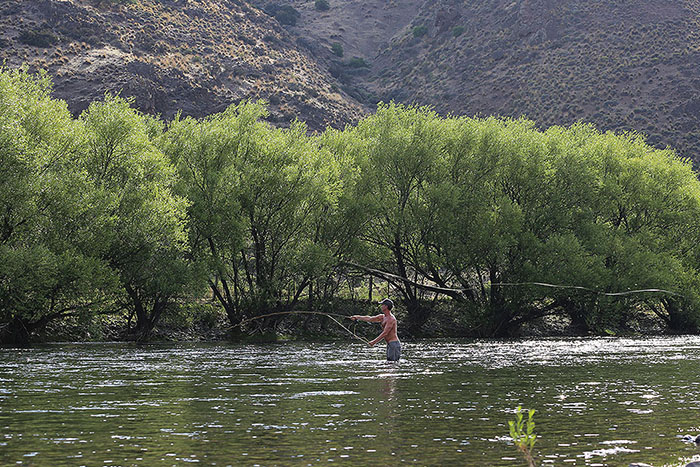 When we got there we were in what seemed to be the middle of no where and once again we were surprised to see how many people were camping and fly fishing along the banks of this remote river. Turns out that many of the people who live in the cities had for the area in Patagonia in and around Barlioche and many of them love to fly fish. After fishing for a short while and only catching few small trout we drove on. We came to a indian reserve where they collected $30 pesos ($6 CAD) from us in exchange for us fishing on their land. While we didn't catch a lot of fish the few we caught were small, but a decent size, the biggest of which was about 17 inches.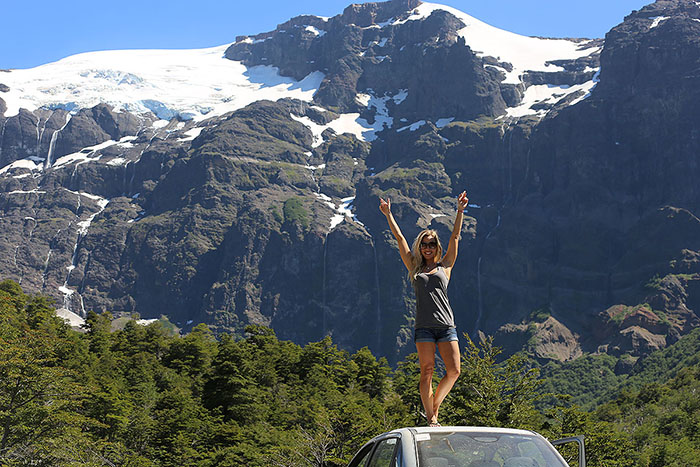 After that we ventured to Mt Tronador which is 3,491 m mountain a few hours away from Bariloche. We got lucky because there was a last minute cancelation at the Hotel Tronador which is a super remote and very cool 50's lodge way up a gravel one lane road 30K away from the base of Mt Tronador. It's situated on the edge of a beautiful bright green lake and included in the costs are three meals a day and the use of a small row boat and loads of trails leading up into the mountains. The lake had huge trout that loved jumping in front of my flies, but none would bite. The local fly fishing guide told me that it was too hot and the chances of catching them were slim. He did tell us about a small lake 8k up a hiking trail in the mountains. Josi and I decided to check it out, but when we got there there were so many hungry biting horse flies that we didn't even get a chance to fish. We drove up to the base of Mt Tronador and went for a quick hike, but once again the horse flies were all over us. Even our OFF spray from Canada wasn't enough to keep them away. Josi was even getting bitten through her sweat shirt. Lucky they weren't so bad in and around our hotel. Staying here was the highlight of our time in the Bariloche area.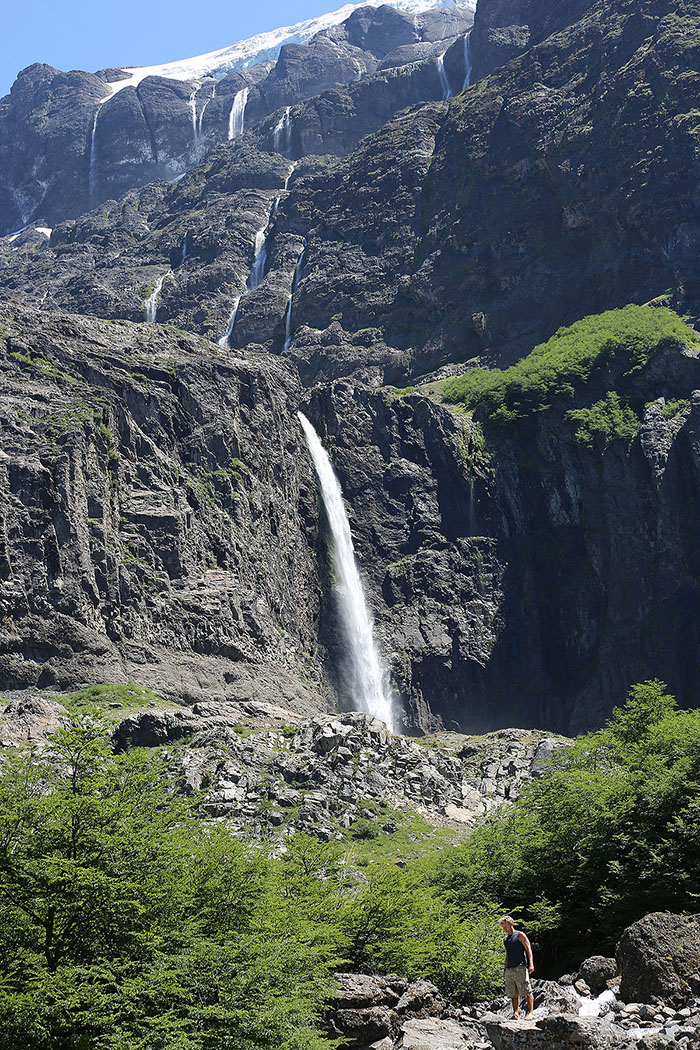 My next blog post will feature our next stop in this amazing adventure as we fly south 3.5 hours to El Calafate and then on to the even more remote town of El Chalten. This will be the furthest south either of us have ever been and there's a lot of excitement around our travels to this remote part of Patagonia.