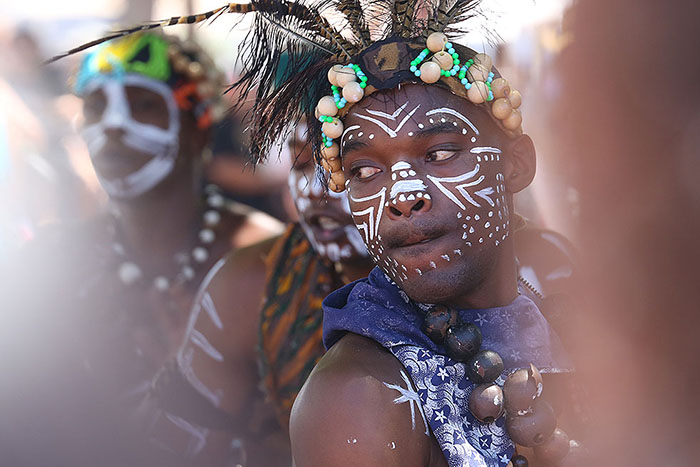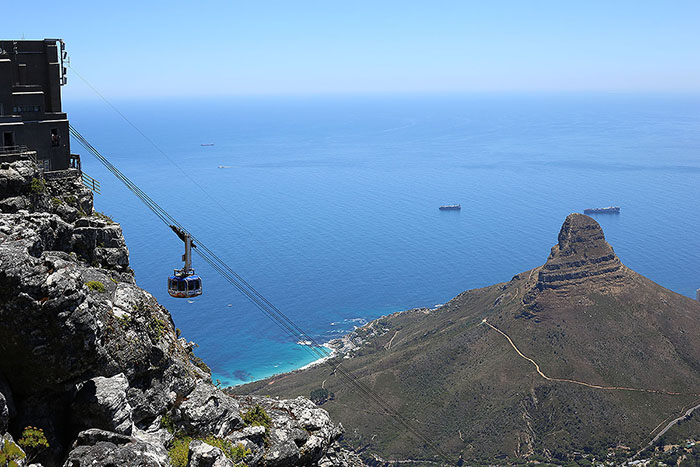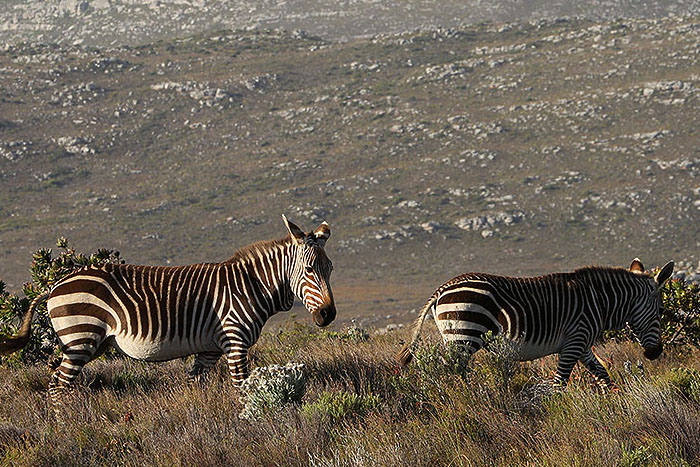 Our trip is one of love, adventures and following our childhood dreams. Ever since Josi was young she wanted to go to Tahiti and for me it was Africa, or as my good friend Bart calls it, Mother Africa. I believe that the "Mother" comes from it being the oldest continent. The landscape here is in sharp contract to that of Argentina where we just came from. Time has worn down and smoothed it's mountain peaks and the skyline is much flatter than that of the Rockies or the Andes.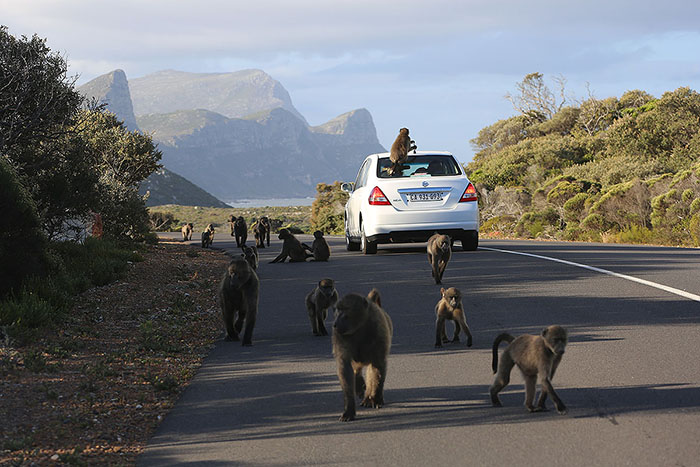 Like many of the nations with huge divides in wealth, South Africa is a country of great contrasts. The second we got off the plane we could feel that there was something about this place that's very different to that what we have experienced. As we drove our rental car out of the airport, driving our standard on the left side of the road no less, we could see where the unusual energy was coming from as our route into town took us through one of the oldest and poorest townships in Cape Town. Townships are huge "human settlements" for black and coloured people, similar to indian reserves in Canada, but much larger in that they sometimes have over a million people living in them. Small broken shacks made of tin and discarded bits lined up as far as the eye can see. Through the garbage that piles the outskirts of these depressed areas the only glimmer of happiness and hope is reflected in the wonderfully bright clothing that the people who live there are wearing.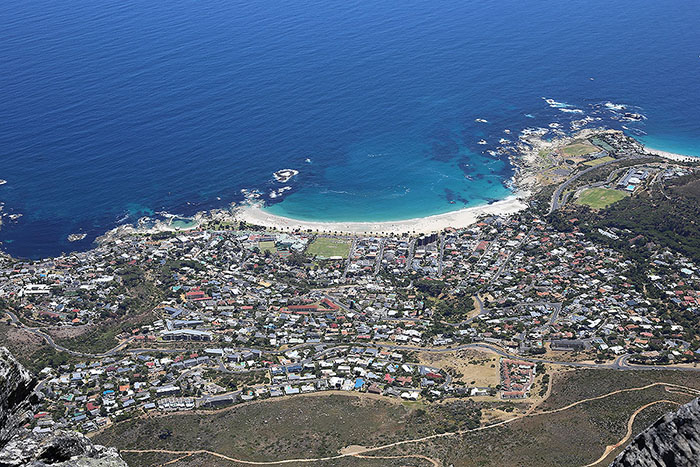 We went to book our hotel a few days before we arrived which was a mistake. I'm not sure why we always wait until the last minute? Perhaps it's because sometimes we get better deals by booking last minute, or more likely it's because neither of us want to miss out on something, or somewhere, better that may come up last minute. Regardless of the reasons, we learnt our lesson because 99% of the accommodations in Cape Town were fully booked when we got there. After a lot of searching we ended up finding a decent B&B that had availability for the first few nights but that's it. After that we had to go to leave Cape Town and go to inland to their wine country for a few days. Then once there was availability back in Cape Town we came back. I'm sure that wine country is great if you love to drink wine, but for the most part I found it too old school and a bit boring. I found Cape Town to be a little bit similar to LA in that it's best to have a car while you are there. If you can handle driving on the wrong side of the road having a car is great because many of the cool areas, beaches and sights are pretty spread out.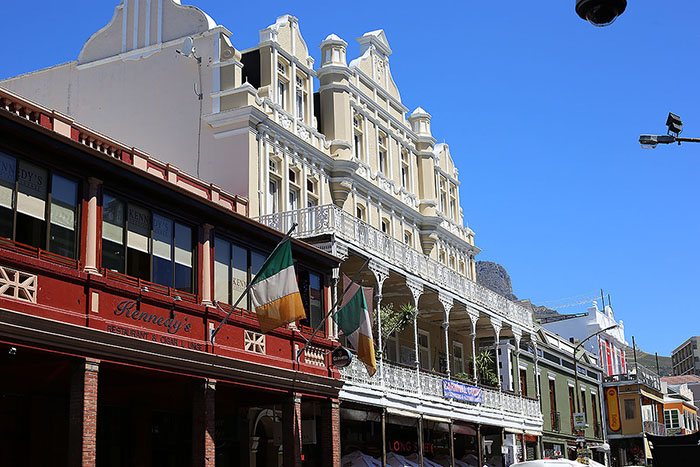 We did most of the touristy things that one does when in Cape Town. We enjoyed eating and shopping at the Waterfront. We took a tour to Robben Island, the prison where Nelson Mandela was jailed for several years. We were really happy to discover Long Street, in Central, because had some cool boutique shops and great restaurants. We hung out at the at Camps Bay which is a beautiful and affluent beach community. We went to a really cool market in Hout Bay that has both great food and some interesting locally made products. Josi loves to hike, so we hiked up Table Mountain, which didn't look all that far, but in the middle of the day in the heat of the African sun it was quite the hike. I guess it's similar to Vancouver's Grouse Grind, but with twice as many steps going pretty much straight up. We also drove to the South Cape which was super cool. It's a National Park that's on the very tip of Africa. On the drive we saw loads of baboons which when we stopped to look at them crawled all over our car. They are meant to be quite aggressive at times and there were signs posted everywhere to stay in your car and to keep your windows rolled up. We also saw some zebras which was super cool as we weren't expecting to see them in the area.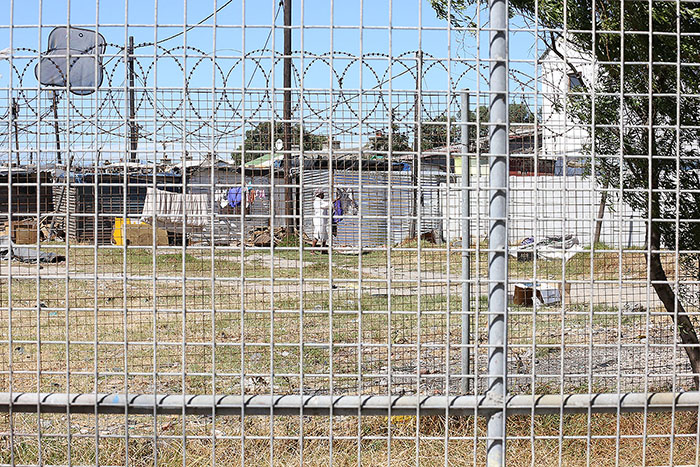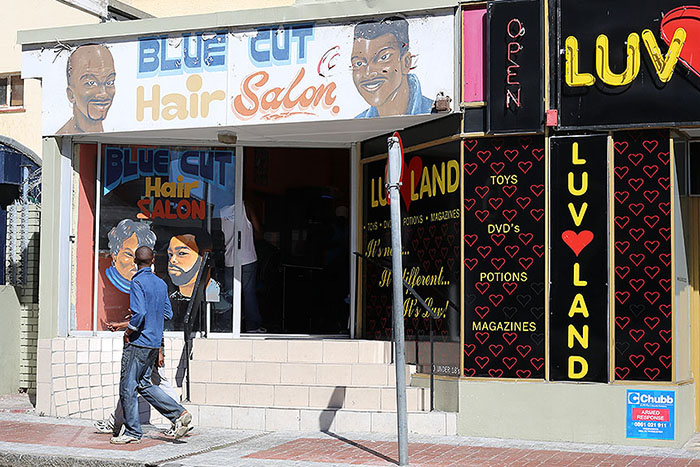 One of the things that we are finding to be really challenging is the constant thought that someone may rob you. It's hard to not be thinking about it because all of the houses have both barb wire on their already high fences and electric fences that back enough punch to drop a man. The windows are all barred, there are armed security guards everywhere and to get in a shop you often have to buzz to be let in. Even if you are feeling safe, in the back of your mind you are telling yourself that they must only have all of this because it's necessary. One day Josi and I were walking a few blocks from our hotel to go for breakfast in a very nice area of town. In front of us where a group of 4 small black kids between 11 and 13 yrs old. Like kids do, they were playing around as they walked along the street, but then I noticed that two of them had black hand guns. My first reaction was they they must be toy guns so we slowed down but didn't stop. Then a white lady who jogged by us stopped and nervously waited until we caught up to her. She was from South Africa and she decided to not go by them just in case and instead took a different way to get to where she needed to go. Right then a large black lady who coming towards us and the kids stopped and visibly concerned ran across the street so not to walk past them. I'm positive that these kids were only playing with toy guns, but it was just weird enough that Josi and I to turned back had breakfast in another part of town.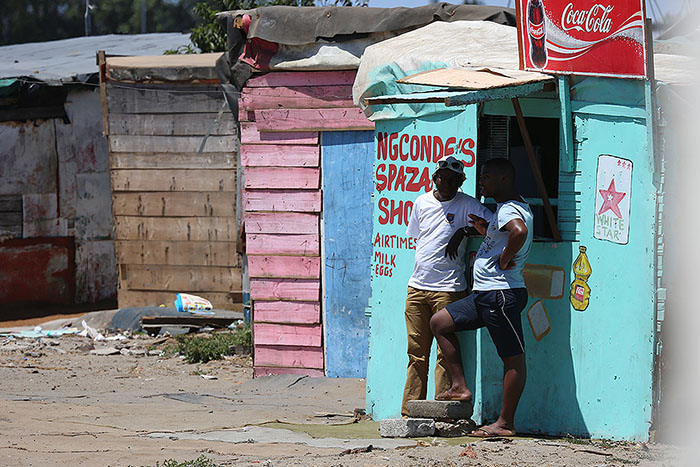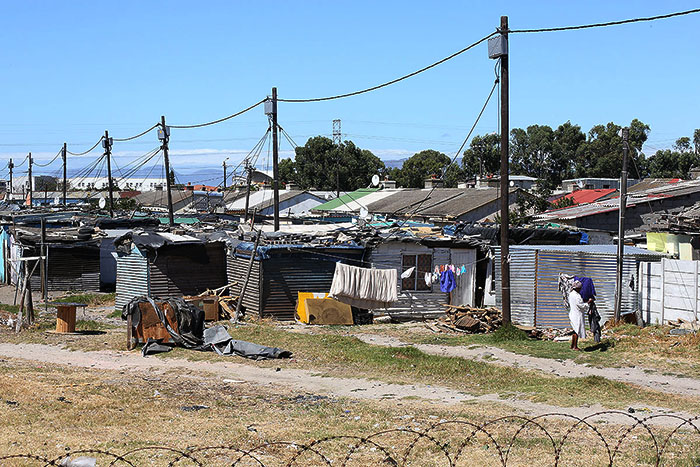 You also have to get used to people constantly hounding you on the streets. Some of them are begging for money, but most of them, while not violent, are more demanding you pay them as they somehow they figure that you own them for one reason or another. For example, everywhere you go people have set up (non) businesses collecting money when you park in parking spaces that are meant to be free parking spots. This you end up getting used to and we pay between 2 and 5 rands each time we park. We pay not because we have to, but because we figure that if we don't there is a chance we may be broken into. Kind of like paying the mob for protection so that they don't rob you.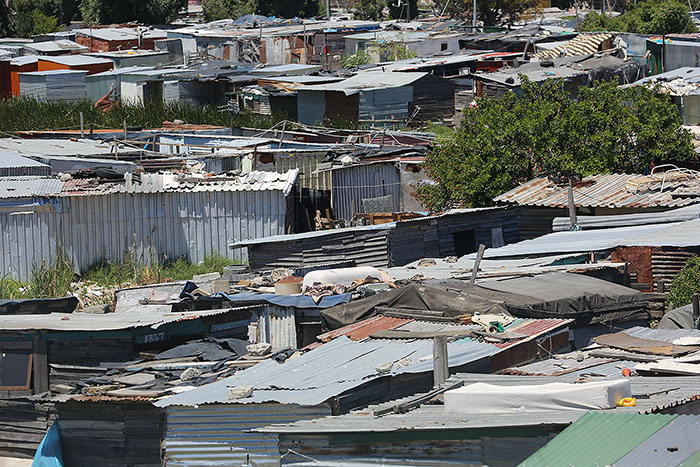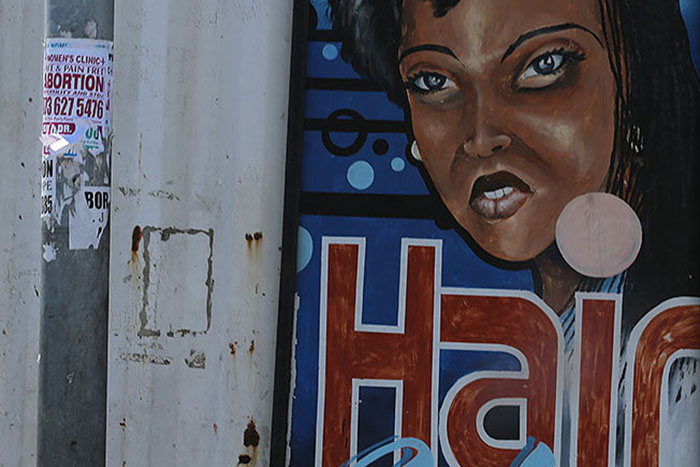 One of the other things that we did that was somewhat touristy was taking a tour of a township. Taking a tour in it self is pretty touristy, but how ours differed was that it was a guy who grew up in the township, and still lived there, was giving the tour to just Josi and myself. It started off pretty normal with a tour of a community centre that's doing a lot of creative things in the neighbourhood. From there we took off on foot and ventured into the underbelly of some of the poorest areas in South Africa. One of the stops was an illegal drinking establishment where they brew their own beer. It was down a small and dirty alley that was home to several unusual businesses that we didn't dare venture into. Inside there were several older down and out men sitting on low benches around 3 of the 4 walls. There was one metal bucket that they were passing around, each taking turns drinking from the local home brew. In the back was a big old black lady stirring two big oil barrels where they brewed the beer. The one old guy who I'm guessing owned the place talked to us for quite a while about the hardships in the town and the importance of his beer to the community and it's ceremonies. I could barley understand him, but we listened and picked up things here and there. Then a fresh metal bucket came out over flowing with fresh beer. They first passed it to our guide and he drank and then he passed it to me to drink. The last thing I wanted to do was to pull a big swig of this super sketchy beer from the communal bucket, but I put my nose into it and wet my tong enough to know that I didn't like the taste. Then I passed it on and it was finished as it went around the room. When we left I was told that everyone who was drinking only gave what they could, some paying more and others paying nothing. We paid them for the experience and carried on. Turns out that this place is owned by a friend of our guide and this is why they let us stop in. From there we ventured into areas that started sketchy and then got even sketchier. Garbage everywhere, 15 people crammed into a super small home, tinny little homes made completely of found pieces of random stuff, outhouses lined up for miles along a small and dirty creek, the list goes on. Even our guide spent most of his time looking over his shoulder as if he was waiting for someone to mug us all. Needless to say, my good camera stayed in it's old sack bag and didn't take a single photo. I was bold enough to take a few shots with my IPhone, but that's it. Unfortunately, the photos from Cape Town in general aren't the best because for the most part it didn't feel safe enough to take out my big camera with it's huge Canon lens.
We were amazed how cheep things are here, especially eating out. For both Josi and I to have a great meal, not including drinks, was usually between $10 and 15 all up. If you want a glass of wine with your dinner, add $2. Except for accommodations, which were around $80/night at B&B's, everything was far less expensive than we were expecting. This was a nice surprise considering that Argentina was 3x more expensive than I was expecting it to be.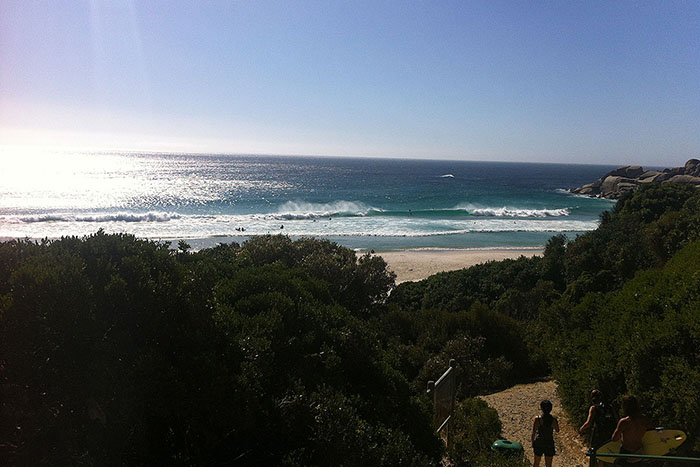 We had our surf boards out and ready to get a surf on, but the poor wave quality in combination with the freezing cold waters of Cape Town were enough to keep our adventures land based. It's rather deceiving as the air temperature was well into the 30's and the ocean is freezing, even though it's a crystal clear light blue colour which usually only occurs in tropical warm waters.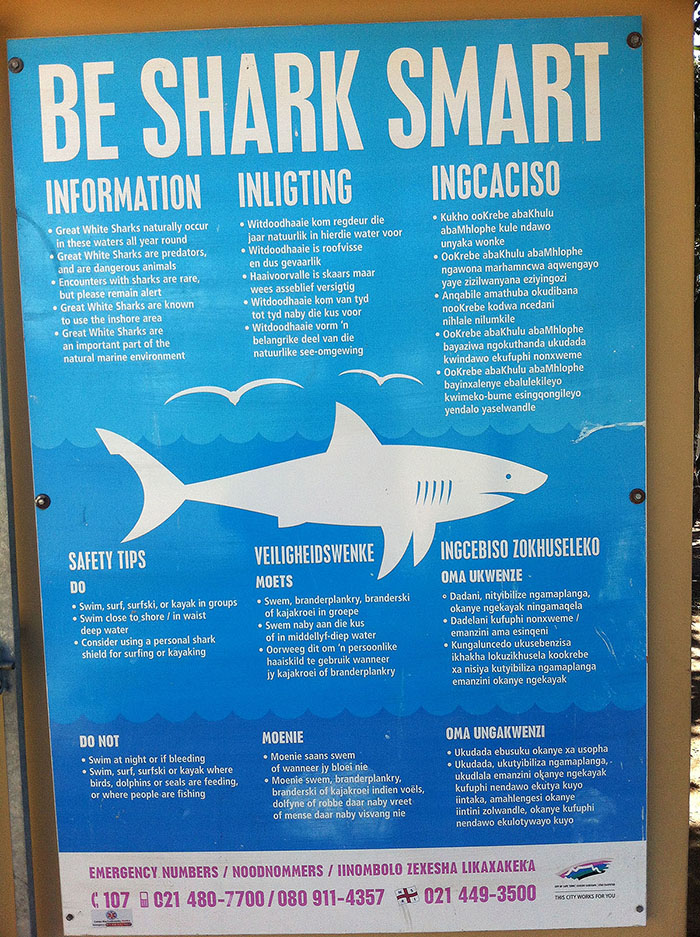 We are finding that the longer we are here the more we are getting to know and understand the way things work and we are starting to enjoy ourself way more. Cape Town and it's surrounding areas is absolutely stunning and all up we enjoyed out time here. Our next stop is 7 days of surfing in Jeffery's Bay which I'm super stoked about.